Tweet
CBA Student Miranda Radesic: Interning With Bridgestone Americas
05/07/2018
Racing a BMW around a slick track is probably not what you picture when imagining an internship, but this was just one of many incredible experiences that junior Sales Management and Marketing Management double major, Miranda Radesic, enjoyed during her 10-week summer position with Bridgestone Americas.
Miranda first learned about Bridgestone's internship program through the sales and marketing fraternity, Pi Sigma Epsilon. "Some of our alumni had done an internship with the company," Miranda shared. "When I spoke with Bridgestone at the Internship and Career Fair, I talked about my experiences with PSE and my connections with other interns, and they offered to bring me in for an interview." Soon after, Miranda had landed an internship with one of the largest tire and rubber companies in the world.
Before hitting the sales floor, it was vital to Bridgestone that its new interns understood not only what products they were going to be selling, but the organization behind those products "They started the internship with a week in Nashville with all the other interns nationwide," Miranda explained. "We learned a lot about the internship and about the company, and they gave us an overview of the industry, too." Later, Miranda and the other interns would have the opportunity to experience the company product first hand—on the race track! "We went to Bridgestone Ride and Learn and we got to race BMWs with the different Firestone tires on them to test them out and feel the differences between the tires." More than just a fun experience, Miranda found her sales improving after her time on the track. "Being able to say to a customer, 'Here's this tire; I just raced on a wet track with that', was very helpful."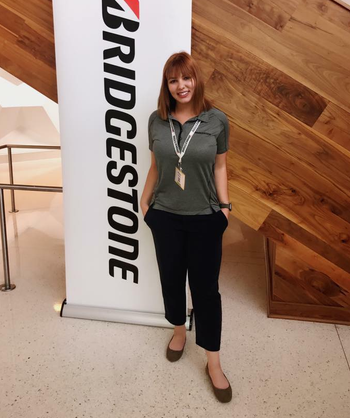 While most of Miranda's time as a retail operations intern was spent on the sales floor learning the day-to-day operations of the store, Bridgestone integrated additional experiences that provided a top-to-bottom view of the company. "We went to the Bridgestone Invitational and did tire inspections for the valet. Afterwards, we got to spend time in the clubhouse, which was where all the players and all the top people from Bridgestone corporate were." The interns were also taken through the Americas Technical Center. "That was cool because they were working on tires that wouldn't come out for two more years. We got to see them first."
In addition to sales, part of Miranda's learning experience involved planning and leading a grassroots sales event with the objective of topping the sales from the previous year. Coordinating everything from appointments to leveraging corporate partnerships, Miranda gained first-hand experience in leadership, management, and teamwork, in addition to sales and marketing. "The event was my responsibility, but I wouldn't have been successful if it was just me working on it. All the sales people helped a lot and rallied behind me doing cold calling to get appointments in that weekend. I really needed the technicians on board, too, because they were going to have a lot of extra customers coming through the door, which puts a lot of extra stress on them. It was definitely a team effort."
Miranda's hard work paid off—big time. Not yet in her junior year at the time, Bridgestone offered Miranda a full time position upon her graduation.
Becoming a Zip
With a clear affinity for the work, it is surprising to discover that sales and marketing was not always where Miranda's sights were set. She initially considered education. "I really like to talk to people," Miranda explained. "I've always liked teaching and helping others. In school, I was always the person who would talk to others or help people out with their problems."
As the time for college drew close, Miranda began to think more seriously about what she wanted to study. "I found that I was always interested in why businesses are the way they are. I always thought 'Why is this product successful compared to this one?' Once I started to put those things together, I kind of realized sales and marketing were for me….You have to be able to explain things and help people to be a good sales person. You have to be able to solve their problems and offer them a great solution. It combines my love of business with my love of teaching. That's what drew me to sales."
Having chosen a field of study, all that was left was to choose a school. Because her father is a professor on campus, Miranda had long been aware of The University of Akron. However, it was the opportunities available at the College of Business Administration that eventually convinced her to join the Zip family. On an official campus visit, she learned about the CBA's dual AACSB accreditation and the numerous professional experiences available to CBA students and she was sold. "It seemed like a perfect fit."
Dean's Team
Miranda's talent for connecting with others and her passion for business made her a perfect fit for her next adventure following the Bridgestone Internship. In the fall of 2017, Miranda joined The CBA Dean's Team. The Team is comprised of high achieving business undergraduate students who participate in activities on campus to share their experiences with prospective students, visit high schools, and help high school students get a better idea of what it means to study business at The University of Akron. "I absolutely love it." Miranda stated. "It's really cool to go into high schools and talk to the students. We talk about our experiences, about Akron as a city, the University and the CBA, and just answer any questions they might have about the college in general. We give them advice, not just about going to Akron, but also in their paths towards college."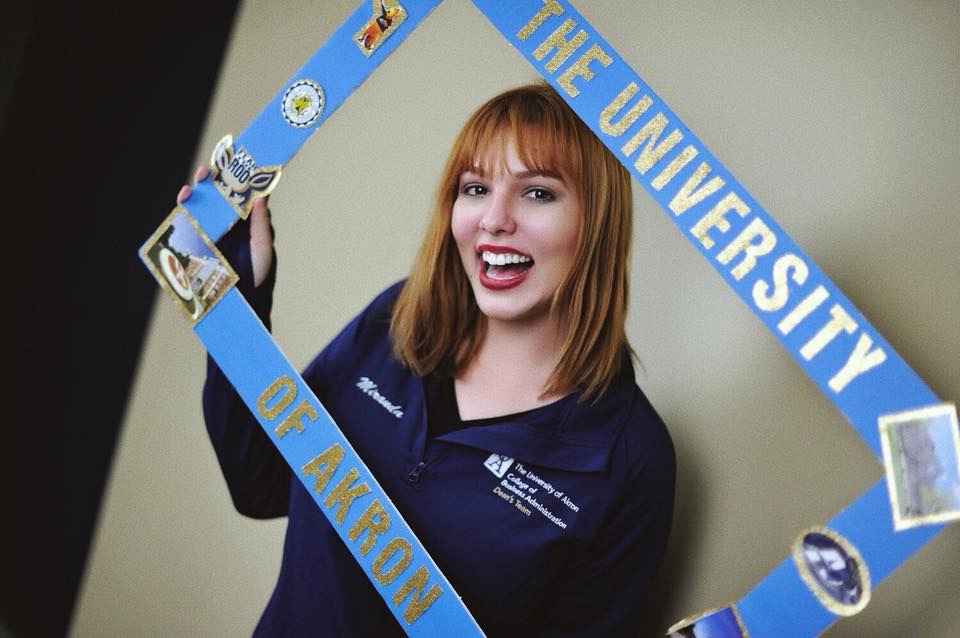 Full Speed Ahead
As the school year wraps up, Miranda is still going at top speed. She is putting the finishing touches on her year-long research project for the CBA Honors Integrated Business Forum, a course that has business students provide innovative solutions to the companies' real-word challenges. Working with corporate partner, Goodyear, Miranda's research looks at the future of ridesharing and how Goodyear can capture this future market. After a year of research, she will have the opportunity to present her findings to the Goodyear executives.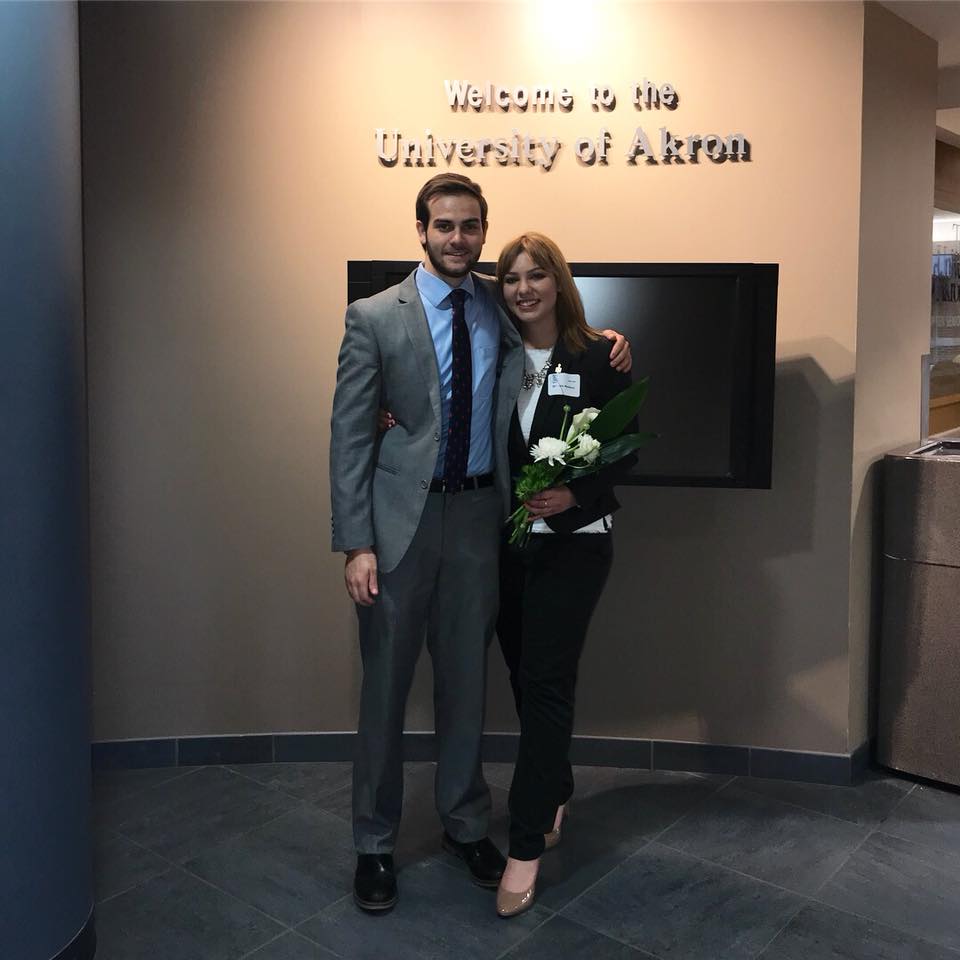 Capping off the year, Miranda was recently inducted into the CBA's honor society, Beta Gamma Sigma, where she was honored with the Outstanding Student Award.
As her junior year draws to a close, Miranda isn't slowing down. In a few short weeks, she will begin a new internship with Geometry Global as the Account Management Intern on the Nestle account team, ready to take on the next adventure.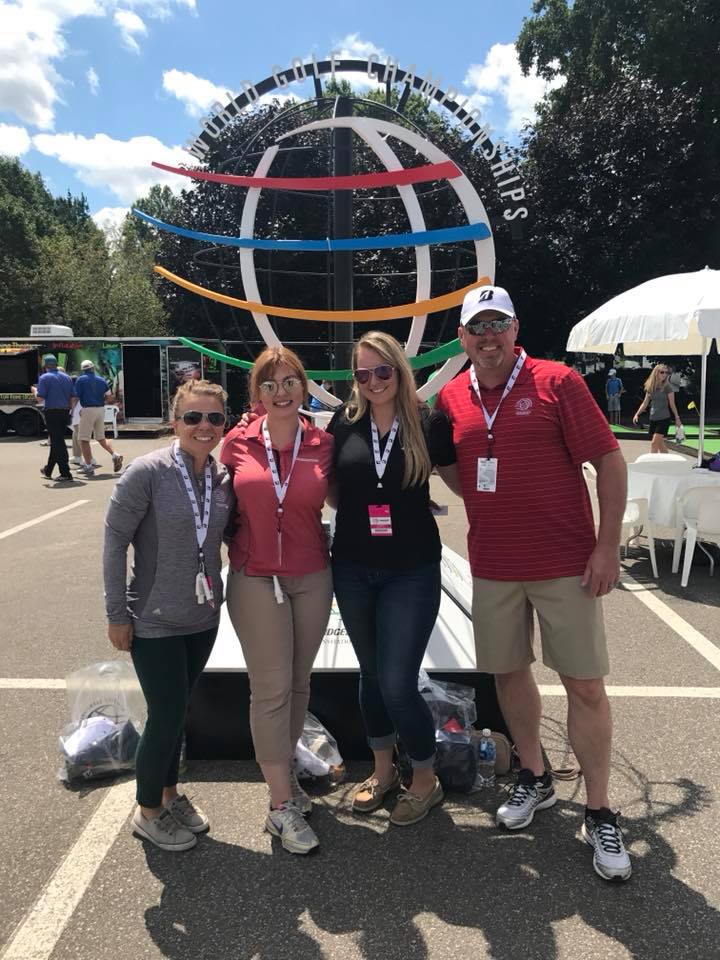 Miranda at the Bridgestone Invitational