Tweet
UA students visit Ghana and develop business model for water filters
07/03/2013
Pictured here, from left, are Sarah Collins of Pro World Ghana, along with Kevin Smith and his student team of Annie Nelson, Liz Gates, Lawrencia Agede, Andria Kaplan, Cassy Gouge, Brittany Tucker and, in front, Anna Davies with their driver, Fred.
---
Water, water everywhere, and not a drop to drink.
It is a country rich with rivers, lakes and ponds. There is water in the wells and water streaming from the taps. But much of this abundant water supply teems with parasites and guinea worms.
Students in Ghana learn proper hand-washing skills.
---
For two weeks in May, six students from The University of Akron's Leadership Experience Project explored the feasibility of manufacturing and distributing affordable ceramic water filters in the Volta Region of Ghana, Africa, — where more than 80 percent of all diseases are caused by unsafe water and poor sanitation, according to WaterAid, an international nonprofit organization dedicated to securing clean water and sanitation for Africa, Asia and Central America.
The Leadership Experience Project, offered by the College of Business Administration's Institute for Leadership Advancement, is part of the new Leadership Advancement Certificate Program, an academic and co-curricular program designed to help students develop cross-cultural leadership and team process skills, self-awareness and an appreciation for social innovation.
Making a difference
The program is meant to create strong leaders who are able to adapt themselves to different cultures, tolerate ambiguity, and apply their knowledge and skills to complex, adaptive problems, says Kevin Smith, director of the Institute for Leadership Advancement.
Education major Cassy Gouge sits in on a class in Ghana.
---
Smith adds that the establishment of the institute was made possible through a gift from The J.M. Smucker Company. The institute is designed to answer the call by employers – and by Smucker's – to graduate students with more well-rounded, holistic leadership skills.
"We want to be a university that prepares its students for the 21st century," Smith says. "We want to help prepare students to hit the ground running, to be able to tell employers a different story — not just about their grades — but about how they learned to apply their majors and solve real-world problems.
"Applying what you've learned in the classroom with people from different backgrounds, in a country much different from your own, is a unique opportunity to grow both personally and professionally, and it certainly sets you apart," Smith adds.
Ready for the challenge
The students who participated in the "Ghana Project" — Annie Nelson, Andria Kaplan, Anna Davies, Brittany Tucker, Liz Gates and Cassy Gouge — combined their diverse knowledge bases (business, engineering, nursing and education) and worked with Ghanaian businesses and nongovernmental organizations (NGOs) to investigate the feasibility of developing a sustainable distribution model for ceramic water filters, which have proven effective in the reduction of waterborne illness.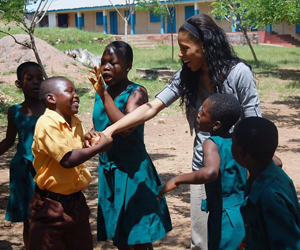 Nursing major Brittany Tucker plays with students during recess.
---
In just two weeks, the students visited models of sustainable social business practices, identified potential ceramic water filter production sites, toured clay deposits and consulted the Vume Vatakpoe Pottery and Ceramic Association, and presented their business model to the Ghana Ministry of Health and officials of the NGOs. Smith plans to advance the institute's work into issue-specific projects that address the many issues identified through the students' research and recommendations.
One of the barriers to the mass adoption of ceramic filters in Ghana, in addition to the lack of resources and manufacturing processes, "is the lack of education on health, hygiene and water safety," Smith says. Therefore, an important facet of the project was "to create demand through education, to link ceramic water filters with the idea of cleanliness."
Thus, the students observed teachers and visited a local school system, developed and implemented a hand-washing and personal sanitation seminar, held a focus group with 150 members of a rural village and its chief, and participated in an open discussion with members of the Global Citizens Initiative and the Ghana Ministry of Health.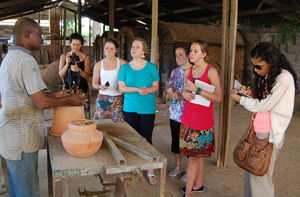 UA students, from left, Andria Kaplan, Annie Nelson, Liz Gates, Anna Davies, Cassy Gouge and Brittany Tucker learn about clay properties as they work to identify potential ceramic water filter production sites in Ghana.
---
In a country in which only 14 percent of the population has access to adequate sanitation facilities, according to Wateraid.org, the students' work is much more than a drop — albeit a large, filtered one — in the bucket.
Embracing differences
But, Smith points out, "it's not just about what the students did, it's about what they learned." For example, they learned the customs of the Ghanaian culture, how to cook its cuisine, make clay pots, speak the Ewe language and even how to shake hands the Ghanaian way.
Most important, Smith adds, the students learned to work together in a foreign culture, to develop cross-cultural communication skills, adaptability and an appreciation for cultural diversity.
"The students were rock stars," he says. "Talk about great representation abroad for UA."
Smith is planning future projects at home and abroad. He is particularly interested in developing projects which enhance the local nonprofit and business community, and in sending enterprising students to Rio de Janeiro, Brazil, the site of the 2014 World Cup and 2016 Olympics. And next spring, the College of Business Administration is offering a 1-credit course in Italy, open to 30 students from any major.

Story by Nicholas Nussen
---
Media contact: Laura Massie, 330-972-6476 or massie1@uakron.edu.