Senior Accounting Sees a Vibrant Future in Her Profession
08/07/2017
When most people hear the word "accounting", an image of number crunchers working away in dull cubicles often comes to mind, but Senior Accounting major, Megan Young, paints a very different picture. "It's not just doing taxes and filling out returns. It's a lot of research, a lot of client interaction, too. That's a misconception about working in taxes; that you just sit in your cube and grind out tax returns, when there's really a lot of client interaction, and a lot of interaction with the audit department and the federal tax group, too."
Megan is currently interning in the State and Local Tax department of the accounting and consulting firm, BDO Akron, where she has been working since August of 2016. Prior to her time with BDO, Megan interned at a small aerospace factory doing cost accounting. Through her time as intern, she has had the opportunity to have paid, real-world work experience while gaining a glimpse of how diverse the world of accounting can be.
"There are so many different fields. I went from a factory to your typical 9-5 office. It's so interesting working with different industries. Even if I'm working on a tax return for different technologies, there are people inventing things and then I get to do their returns. It's fascinating to me!"
Finding a Path
Hearing these words, it's not too surprising to learn that Megan has had her sights set on accounting for many years. "Starting in 8th grade, I knew I wanted to be in accounting. I'm a nerd like that…It was practical and I knew I could do a lot with the degree… My mom always said 'You're going to be an engineer or an accountant, that's just the way your brain works'. I really took that to heart and looked into both careers. Business was interesting and it's changing, especially with technology, and that really piqued my interest."
In high school, Megan began to explore options for continuing her education. "I started looking into schools and I learned that Akron has a top 25 accounting program…I could commute, stay at home for a couple years, save some money, but still get a quality education."
Beginning classes at The University of Akron, Megan, like many college freshman, had an idea of the field she wanted to study, but was not yet sure where her degree would lead. Through CBA sponsored events, such as Evening With the Accountants, and involvement in student organizations, Megan was able to gain a clearer picture of the accounting world and where she would fit within it.
"I wasn't really sure what I wanted to do with accounting my Freshman year. Putting myself out there wasn't something I was comfortable with. I'd just go to class and go home and I wasn't involved in any organizations. My Sophomore year, I started getting involved with the Accounting Association, and my Junior year I joined PSE (Pi Sigma Epsilon, a co-ed professional sales and marketing fraternity), and took on an officer role in IMA (Institute of Management Accountants). I learned to put myself out there, and if I want something, I have to go get it for myself… As I've taken more classes and gained more experiences, I've discovered the niche areas that I might be interested in. The more I've explored the minors [at the CBA], I've already been able to add on to my accounting education. It's a really good business school we have here."
Internships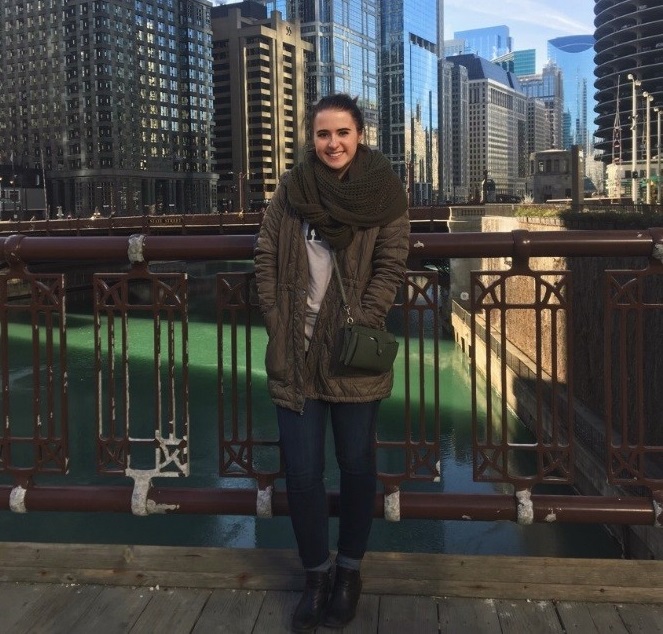 A key in shaping Megan's path have been her internships. While most students typically begin their first internships as upperclassmen, Megan, encouraged by the relationships she had built at the CBA, began her first internship at the end of her Sophomore year.

While the CBA has a fulltime Internship Coordinator who works with hundreds of students and employers each year, Megan followed a different path. "In the accounting program, they definitely encourage you to get an internship. Junior year is the typical time, but I've been going to Evening With the Accountants since Freshman year, trying to meet people and get a better idea of what accounting is really like. I was looking at opportunities and I found my first internship – in fact, I found both my internships – through LinkedIn. I tell people if they're looking for internships, use it! It's great for introducing people."

Megan's first internship experience was unique, taking her into the field of cost accounting at an aerospace manufacturer in Mentor, OH. "It was basically a wax factory. They made wax molds that would then make jet engines. So, right next to one of those machines was my little desk and I got to do the cost accounting, sitting with a little timer to time the processes and figure out the costs."
While she enjoyed her work in the factory, the hour drive to Mentor soon became too much and Megan turned to LinkedIn once again in search of another opportunity. "When I went in for the interview, I had a connection on LinkedIn that I'd met in the firm. I actually almost ran into her in the hallway. I saw her there and we had a quick conversation. I think my interviewer saw that and thought 'Oh, she knows people here!' That might have helped me, too. It really shows how important LinkedIn is."
Now, as an intern with BDO, Megan's workday is highly varied, offering her a chance to learn about multiple facets of the tax realm of accounting. Far from your typical image of a coffee-fetching intern, Megan is involved in real work every day.
"As an intern in a small department – there's about 8 of us – I never really know exactly what I'm going to be working on, especially when it's not the busy season. I might work on different calculations, I do research, I shadow the senior management. The great thing about State and Local Tax is there are sales and little taxes that you wouldn't expect. We have a big restaurant group in our firm, so I can look at the different taxes restaurants have to pay to open a business, what all that entails. I get to learn about a lot of different industries. Sometimes we'll have client notices that the State will send and I get to deal with those, call the State, find out more about what's going on. I'm learning something every day..."
As Megan is learning, internships offer the opportunity to bring together and put into practice skills from a wide variety of courses. "Lately, I've been doing returns which require a lot of calculations in Excel, so the spreadsheet course was definitely an important one to take. I'm taking Advanced Spreadsheet in the fall, because that's an accounting elective that's going to be very useful to me. Public speaking was also helpful. I talk with people in management all the time, there is client interaction, and you have to present yourself well. Management and Organizational Behavior were helpful classes. Understanding the people you work with and how everybody differs is so important. Interacting with people differently to fit their styles, I think that's important, too…I've really been able to develop myself interpersonally through my classes and put it into practice at my internship."
Making Connections: The Institute of Management Accountants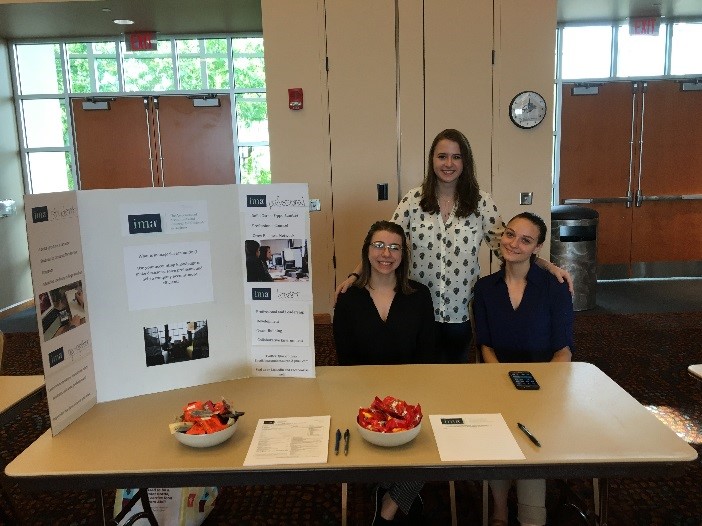 Heading into her final year at the CBA, one of Megan's goals as IMA president is to help her fellow students understand the wide variety of career options within the field of accounting.
"There are so many niches for accounting, especially in Akron. There's the forensic accounting, joint Master's degree, and other…I think when people hear 'accounting', they think 'public accounting', so it's really interesting to try to get people to think more about managerial, if they want to work with a company or work up to a CFO or CEO…"
One of the ways Megan plans to achieve this goal is through the student organization of which she is currently president, the IMA.
"IMA is a great organization because professionals have their own chapters and then there are the student chapters. My selling point when I'm trying to recruit is our monthly dinners. Every month, IMA hosts dinners with accountants. There are two speakers and they love when students come, so I try to attend as often as I can…We've made some good connections with area accountants there. You could get to sit next to a CFO! It's really interesting and you get to make so many great connections. Honestly, the Northeast Ohio area, even the accounting world, feels small once you start building connections. I've had recruiters reach out to me, or had people reach out to me from opportunities within the student organizations…it's been very beneficial."
Working a professional internship while taking classes and acting as a student organization President is a lot to take on, but Megan relates that her employers are careful to put her education first.
"They're very understanding. Classes come first to them…I work about 3 days a week, 9-5. With the busy season, I was almost full time, sometimes staying late at night but it was never too crazy. I think the latest I was there was 9pm. It's all manageable."
Career Ready
For Megan, the future holds nearly endless possibilities. As an accounting major with a minor in Information Systems and Entrepreneurship, as well as two years of real-world experience under her belt, she will be hitting the ground running.
"I always tell people. If you have an opportunity--it might not be the most glamorous opportunity--but if you have any opportunity to get your foot in the door, just try something in your industry. Go for it. I was in a wax factory. It wasn't glamorous. I was waking up early, driving an hour to Mentor; but I got my first taste of accounting, and it was a talking point in my interview for my next internship…"
As she heads into her final year at The University of Akron, Megan will continue her internship with BDO through her graduation in May 2018. Like many other Zips, Megan finds the end bittersweet. "It's really interesting feeling like 'This is my last year?!' and all that that entails. Preparing for graduation, hopefully getting my job offer after graduation… finishing up and finishing strong and taking my student organization, IMA, and seeing how we can grow that and pass it on to someone else. Just kind of wrapping up. It's happy, but also, this was fun, and I know I'll miss it when I leave."
We will be following more CBA students on their adventures throughout the summer. Be sure to check back here and follow us on Facebook, Twitter, and Instagram to keep up with the latest stories!
To learn more about internships with the CBA, visit the Internships page.
To learn more about how you can get involved with the Student IMA, PSE, and other student organizations, visit the Student Organizations page.