Vitamix executive to be honored by UA's Taylor Institute for Direct Marketing at Interaction 2017
05/10/2017
Karen Haefling, vice president of marketing for the Vitamix Corporation, will be presented with the Direct Marketer of the Year Award at Interaction 2017, hosted by the Gary L. and Karen S. Taylor Institute for Direct Marketing at The University of Akron's College of Business Administration on Friday, May 19. Haefling is being recognized for her work leading the marketing efforts of Vitamix and for her expertise in both the positioning and building of the Vitamix brand on a global scale.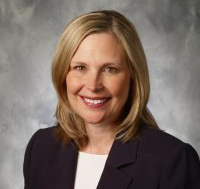 Haefling leads the teams that manage global websites and e-stores, trade shows, merchandising, creative, media, digital marketing, and communications. Additionally, she is responsible for the culinary team that develops global recipes for consumer cookbooks and commercial customers, and she manages Vitamix Foundation. Prior to Vitamix, Haefling was the chief marketing and communications officer for KeyCorp, one of the nation's largest commercial banks. There she was responsible for brand management, marketing strategy, public relations, advertising, research and database marketing.
She has a BBA from Ohio University and an MBA from Kent State University. Haefling is active in the community, having served on numerous boards and committees, including ideastream, The Rock and Roll Hall of Fame and Museum, University Hospitals Marketing Committee, Team NEO, In Counsel With Women and the Marketing Leadership Roundtable.
"We are very honored and extremely happy to present the Direct Marketer of the Year award to Karen Haefling," said Taylor Institute Director Jacob Farrar. "Ms. Haefling was nominated by a couple of Taylor Executive Advisory Board members for her success and leadership at Vitamix. It is also a special opportunity to present this award to a successful marketer from here in Northeast Ohio. She clearly is a successful marketing executive who sets the standard in direct marketing."
Ms. Haefling's award is particularly fitting, as this year's Interaction focuses on marketing to a global audience. Farrar notes, "Not only has Vitamix become a household brand all over North America, Asia and Europe, but they are doing it from just outside of Cleveland. We are fortunate to have this great global company in our own backyard."
Since 2005, the Direct Marketer of the Year Award has honored practitioners who have had a dramatic impact on the direct marketing industry by adhering to the best direct marketing and ethical practices. Past winners have included Lester Wunderman of Wunderman, John Costello of Mobile Marketing Association, Jeff Hayzlett of Eastman Kodak, Christa Carone of Xerox, Tom Richmond of Little Tikes Worldwide, James Moorhead formerly the CMO of DISH Network, and most recently, Fred Neil, the Global Head of Lifecycle Marketing and Business Intelligence for Amazon.
---
Media contact: Dan Minnich, 330-972-6476 or dminnich@uakron.edu.