Tweet
UA will help fill huge need for insurance professionals with new degree
2017-09-14 00:00:00.0
The University of Akron's new bachelor's degree in risk management and insurance (RMI) has been kicked off in style with the founding of a new chapter of the international fraternity Gamma Iota Sigma. The founding ceremonies — attended by students and officials from across the region — spotlight a new degree whose graduates will help fill an estimated 29,000 job openings in the Ohio insurance industry between now and 2024.
Courses that are part of the new degree offered through UA's College of Business Administration began this fall semester. President Matthew J. Wilson, Ohio Department of Insurance Director Jillian Froment, and students from Gamma Iota Sigma chapters at Temple University, St. John's University, Kent State and Olivet College came to UA for the chapter chartering ceremonies. The gathering highlights the huge need for new insurance professionals in Ohio during the next few years.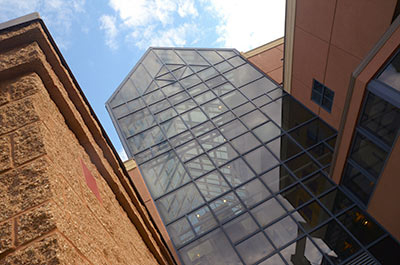 Field with '
tremendous opportunities'
"The University of Akron engages civic and business leaders on an ongoing basis to ensure our academic offerings remain highly relevant for both students and employers," said Wilson. "Risk management and insurance presents tremendous opportunities for our students, and the industry urgently needs more graduates in this field."
"Ohio has one of the largest insurance markets in the world because it is home to both strong and innovative companies as well as a great workforce," Froment said. "In order to meet the needs of the industry as it continues to grow, programs like The University of Akron's ensure the workers of tomorrow are trained for the jobs of tomorrow. We are appreciative of The University of Akron and Gamma lota Sigma for making the commitment to Ohio's more than 100,000 insurance professionals and the industry they support."
"Risk management and insurance offers rewarding careers, with the average salary of an insurance professional in Ohio at nearly $72,000," said Dr. Jill Bisco, assistant professor of finance. "The long-term growth of Ohio's insurance industry is faster than average, so this is a great time to enter the industry."
Gamma Iota Sigma is the international fraternity for risk management, insurance and actuarial science students. Officers from the organization's national office conducted the chapter founding ceremonies and inducted the first student members from UA.
Strong career preparation
The new bachelor of business administration will prepare students to work in the areas of property, liability, life, or health insurance as well as corporate risk and investment management. Students with the risk management and insurance degree will have the foundation to begin careers as underwriters, claims adjusters, insurance sales representatives and financial or risk management analysts.
Westfield Insurance, Nationwide Insurance, Motorists Insurance Group, National Interstate Insurance and Progressive are a few of the companies with significant Ohio operations in need of graduates with risk management and insurance degrees.
More information about the bachelor's degree in risk management insurance is available by contacting Jill Bisco in UA's College of Business Administration at jbisco@uakron.edu or 330.972.5436.
---
Media contact: Dan Minnich, 330-972-6476 or dminnich@uakron.edu.