UPDATE: The Clinic for Individual and Family Counseling is closed until March 30
If you are experiencing a mental health emergency please call 9-1-1
or go to the closest emergency room.
A note to current clients:
We have kept your scheduled appointment day of the week and time so that when the Clinic resumes services we will be ready for your appointment.
If you would like to hear about other mental health services locally until our Clinic resumes services, please see the following referral list.
For additional resources, please see these links:

The Clinic for Individual and Family Counseling
► Open to the public | New patients welcome
We are a state-of-the-art counseling training/service center, operating on The University of Akron campus. We offer individual, couples, family, and group counseling. See the services we offer.
Since 1986, the Clinic has provided counseling services to Greater Akron and its surrounding communities.
Mission
Our mission is twofold:
To provide high quality, low cost mental health services to the Greater Akron area.
Counseling is provided to individuals of all ages, couples, families and groups.
To provide state-of-the-art advanced training in mental health.
Under the supervision of qualified faculty members, master's and doctoral students receive professional mental health training experiences including assessment and evaluation, diagnosis, treatment planning, case consultation, and diverse approaches to counseling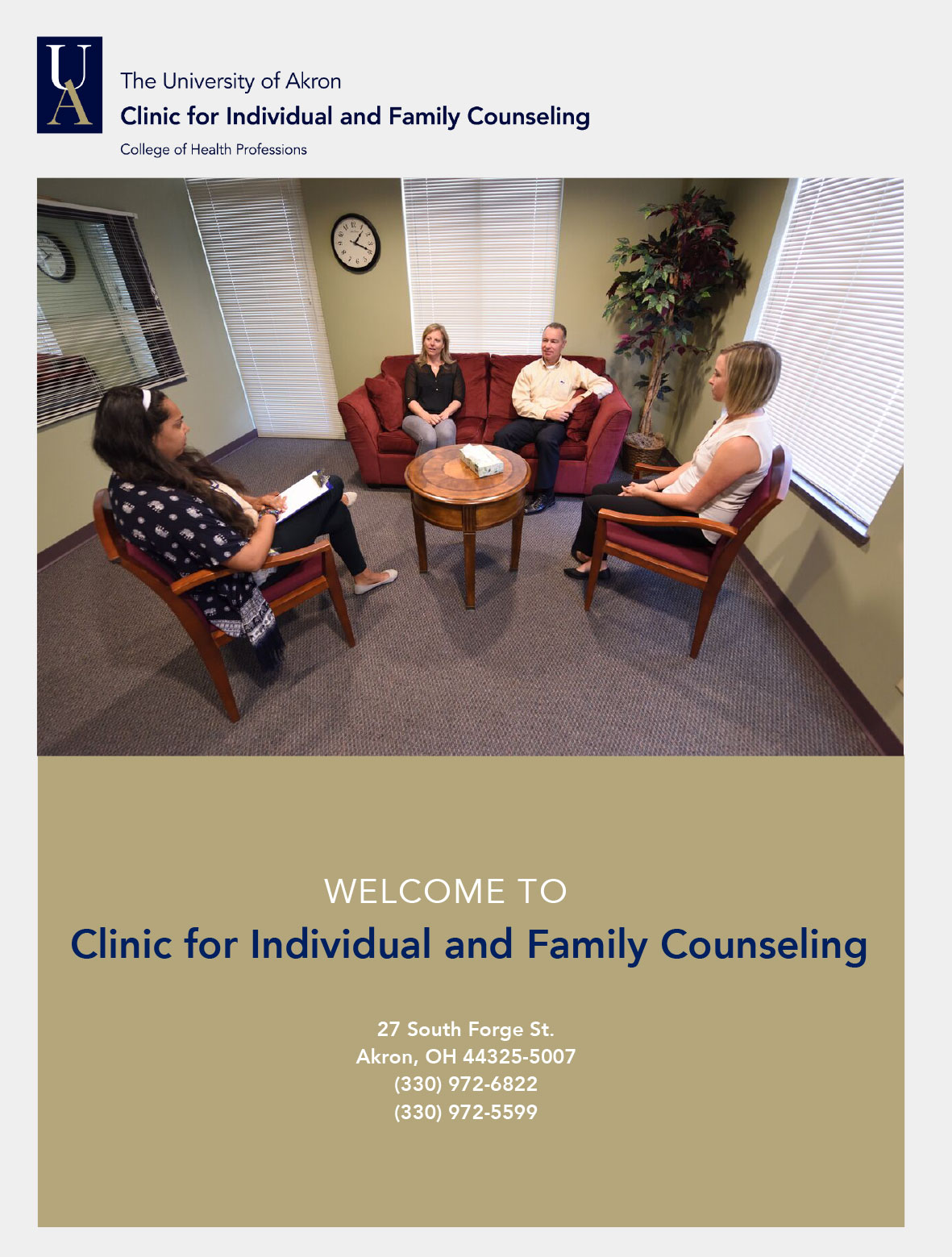 Download our welcome brochure
Our welcome brochure describes our services, our privacy practices, and your rights and responsibilities.
Inside the clinic
Contact us
We are in the C.P. and Cornelia Chima Family Center on The University of Akron campus. See on map
27 S. Forge Street, 2nd floor
Akron, OH 44325
Phone: 330-972-6822
Fax: 330-972-5599
---
Advisory board members
Yue Dang, Ph.D.

Heather Katafiasz, Ph.D.

Julie Lenyk, Ph.D.

Delila Owens, Ph.D.

Rikki Patton, Ph.D.

Robert Schwartz, Ph.D.

David Tefteller, Ph.D.