Dr. Heather Braun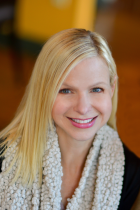 ---
Biography
Heather Braun is an Assistant Professor of English at the University of Akron, where she serves as Honors Coordinator and Internship Liaison for the department. She teaches courses in British literature, literary theory, composition, and young adult literature. She has published on Augusta Webster, David Mamet, Louise O'Neil, Norman Mailer, Sydney Owenson, Mary E. Braddon, and Mary E. Coleridge. Her book The Rise and Fall of the Femme Fatale in British Literature was published in 2012, and her edited collection, The Lady on the Drawingroom Floor with Select Poetry and Prose by Mary E. Coleridge will be published by Fairleigh Dickinson University Press in Spring 2018.
In 2016, Dr. Braun co-founded and co-organized an international academic conference in Le Mans, France with colleagues at the Université du Maine. She is the co-founder and director of the Crossroads Writers Conference, which began in Macon, GA in 2008 and will take place in Akron, OH in 2018. She is currently a group leader through the Books@Work program, which fosters diversity, inclusion, and productivity among employees in local corporations and philanthropic organizations. She also works with high school writers in Summit Lake through the Reimagining the Civic Commons project, helping young writers showcase stories about where they live.
---
Publications
BOOKS:
The Rise and Fall of the Femme Fatale in British Literature, 1790-1910. Madison, NJ: Fairleigh Dickinson University Press / Rowman & Littlefield, 2012.
JOURNAL ARTICLES:
"Mary E. Coleridge, Androgyny, and the Spectral Doppelgänger." Parlour: A Journal of Literary Analysis and Criticism. Special Edition: "Pushing Back: Feminist Readings as Resistance" 1.2 (2016): 1-7. https://www.ohio.edu/parlour/issues/news-story.cfm?newsItem=066491D8-5056-A874-1DF4EF7EFA3EDC21.
"Augusta Webster's Mother and Daughter and the Only Child Debate." Journal of Gender Studies Fall 2016: 1-13. http://dx.doi.org/10.1080/09589236.2016.1220289.
"The Roving Psychopath in Love: Mailer's 'The White Negro' and Nabokov's Lolita." The Mailer Review 8.2 (2015): 148-56.
"Teaching Controversy: Norman Mailer in the College Classroom." The Mailer Review 8.1 (2014): 225-32.
BOOK CHAPTERS:
"Invisibility and (Dis)Embodiment in Louise O'Neill's Only Ever Yours." Embodied Readings: Readings in Children's Literature and Culture. Eds. Roxanne Harde and Lydia Kokkola. New York: Routledge, 2017. 70-82.
"Idle Vampires and Decadent Maidens: Sensation, the Supernatural, and Mary E. Braddon's Disappointing Femmes Fatales." Antifeminism and the Victorian Novel: Rereading Nineteenth-Century Women Writers. Ed. Tamara Wagner. Amherst, NY: Cambria, 2009. 235-54.
---
Education
Ph.D. in English, Boston College; MA in English, Claremont Graduate University; B.A. in English, Lafayette College, cum laude.
---
Courses
Victorian Poetry and Prose, British Fiction: 1900-1925, English Composition II, Critical Reading and Writing, Graduate Seminar in English: The Doppelgänger, Nineteenth-Century British Poetry, Young Adult Literature, Charles Dickens, Studies in Romanticism, The Brontës, Graduate Seminar: Critical Approaches to Literature, British Women Writers
---