Eric Wasserman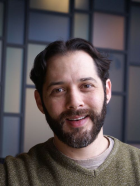 ---
Biography
Eric Wasserman is the author of a collection of short stories, The Temporary Life, and a novel, Celluloid Strangers. His fiction has won the David Dornstein Memorial Creative Writing Contest and the Červená Barva Press Fiction Chapbook Prize and has most recently been featured in Confrontation, Journal of Experimental Fiction, Soundings East, and Great Lakes Review. He specializes in teaching courses in film, literature and fiction writing and advances the English Department's minor in Popular Literature and Film. He is the founder and faculty advisor for the university's graduate student literary journal, Rubbertop Review, and its undergraduate student literary journal, Ashbelt. You can visit him at www.ericwasserman.com.
---
Research Accomplishments
Summer 2014 Faculty Research Fellowship to continue American Film as Personal and National Narrative (retitled That's Me in the Screen: Memory Through the Movies).
Summer 2013 Buchtel College of Arts and Sciences Faculty Scholarship Award for American Film as Personal and National Narrative.
Summer 2010 Faculty Research Fellowship for The Angel Moshe: Jewish History, Tradition and Folklore Through A Contemporary Fictional Narrative.
Publications
Celluloid Strangers: a Novel. Cut Above Books, Second Wind Publishing, LLC, 931-B South Main Street, Box 145, Kernersville, NC 27284. October 26, 2011, 406 pages.
The Temporary Life: Stories. La Questa Press, 211 La Questa Way, Woodside, California 94062. March 15, 2005, 222 pages.
"Reprint of The Temporary Life: Stories with new author's foreword and reading group guide." University of Akron Press, The University of Akron, 44325-1703. March 1, 2010, 260 pages.
---
Education
MFA, Emerson College
---
Courses
Film: Film & Literature, Women & Film, Film Criticism, Film Appreciation, Independent Film.
Literature: Stephen King, American Noir, Tolkien & Lewis, Old Testament as Literature, Jewish American Literature, Modern Jewish Novel, American Novel Today, New Fiction.
Creative: Introduction to Fiction Writing, Advanced Fiction Writing, Graduate Writing Seminar: Fiction, Craft and Theory: Fiction.
---