Dr. Janet Bean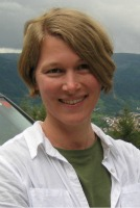 Title: Director, Institute for Teaching and Learning; Associate Professor
Dept/Program: OAA, English
Office: Leigh Hall 407
Phone: 330-972-6462
Email: jbean@uakron.edu
Curriculum Vitae: Download in PDF format

---
Biography
Janet Bean serves as director of the Institute for Teaching and Learning. She also teaches undergraduate and graduate courses in composition studies in the English Department. Her research interests include writing pedagogy, general education, assessment of student learning, and faculty development.
---
Publications
"Free Speech and Freewriting: A Pragmatic Perspective." Journal of Teaching Writing, (Fall/Winter 2009-2010). With Peter Elbow.
"Composing Academic Identities: African-American Students as Language Researchers." International Journal of Learning 12.8 (2006): 241-248.
"Manufacturing Emotions: Tactical Resistance in the Narratives of Working Class Students." Ways to Move: Rhetorics of Emotion and Composition Studies. Ed. Laura Miccicche and Dale Jacobs. Portsmouth, NH: Heinemann, 2003.
"Should We Invite Students to Write in Home Languages? Complicating the Yes/No Debate." Composition Studies 31 (Spring 2003): 25-42. With Marianne Cucchiara, Robert Eddy, Peter Elbow, Rhonda Grego, Rich Haswell, Patricia Irvine, Eileen Kennedy, Ellie Kutz, Al Lehner, and Paul Kei Matsuda.
"The Color Line: African-American Vernacular English and Computerized Grammar Checkers."Included in English Studies. Ed. Shelli Fowler and Victor Villanueva. Washington, DC: American Association of Higher Education, 2002.
"Feminine Discourse in the University: The Writing Center Conference as a Site of Linguistic Resistance." Feminism and Empirical Writing Research:Emerging Perspectives. Ed. Joanne Addison and Sharon McGee. Portsmouth, NH: Heinemann, 1999. 127-144.
"An Approach to Critical Writing: Begin with Contradictions." Literature and Life: Making Connections in the Classroom. Ed. Patricia Phelan. Urbana, IL: NCTE, 1990.
---
Education
Ph.D., University of North Carolina, Greensboro
---