Dr. Patrick Chura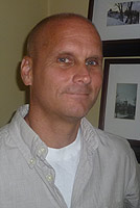 Title: Professor
Dept/Program: English
Office: Olin 353
Phone: 330-972-6242
Email: jpc@uakron.edu

---
Biography
Patrick Chura teaches courses in nineteenth and twentieth century American literature and culture studies. He is the author of two books and has published articles on a variety of literary-historical topics. His second book, Thoreau the Land Surveyor, won the College English Association of Ohio's Dasher Award for outstanding literary scholarship. His 2012 edition of Ernest Poole's The Harbor was published in the Penguin Classics series.
Chura's recent articles in The Chronicle of Higher Education and the London-based Times Higher Education underscore his contributions to discussions about race, gender and social conflict at the national and international levels:
"It's Time for Scholars to Take Harper Lee Seriously"
"The Mythology of Jackson State"
"Sexual misconduct in academia: reassessing the past"
Professor Chura is also a translator who has made Lithuanian literary texts available in English. In 2009 he received a grant from the European Union for research in Baltic literature and drama, and in 2015 he received funding from the Lithuanian Ministry of Education to preserve memories of a politically decisive 1988 theater festival by establishing the Atgaiva Oral History Archive in the city of Šiauliai.
Dr. Chura has been a Peace Corps Volunteer in Eastern Europe and has received three Fulbright grants, lecturing in Lithuania in 2009, the United Kingdom in 2012, and the Socialist Republic of Vietnam in 2016. He serves on the editorial boards of The Eugene O'Neill Review, Lituanus, and Acta humanitarica universitatis Saulensis.
Video Files:
As a Fulbright lecturer, Professor Chura visits Vietnam's Cu Chi tunnels with students and faculty of Ho Chi Minh City Open University. May 2016.
Film trailer, Henry Thoreau: Surveyor of the Soul (2017). Chura, a scholarly consultant for the film, speaks at 1:50.
---
Education
Ph.D., St. Louis University
---