Lauren Garcia-Duplain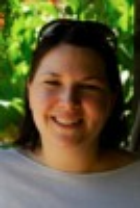 ---
Biography
Lauren Garcia-DuPlain teaches freshman composition and provides instructional support for faculty who teach in the Department of English computer labs. Her research interests include first-year composition, instructional technology, new media writing, and visual rhetoric.
---
Research Accomplishments
Publications
"Training 2.0: Advocating a Grassroots Approach to Building 21st-Century Faculty." FORUM: Newsletter for issues about part-time and contingent faculty 13.2 Spring 2010: 9-13.
---