Philathia Bolton, Ph.D.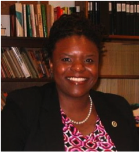 Title: Assistant Professor, Honors Advisor & Internship Liaison
Dept/Program: Department of English
Office: Olin 356
Phone: 330-972-6948
Email: pbolton@uakron.edu

---
Biography
Philathia Bolton obtained a PhD in American Studies from Purdue University. Her research and teaching interests involve 20th century African American literature, black women writers, and critical race studies.
---