VOICE OF RUSSIA RADIO STATION FEATURED AKRON LAW PROFESSOR
10/16/2013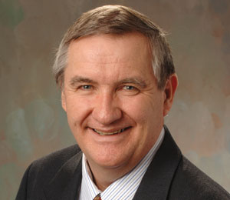 Professor Wilson R. Huhn to Speak About Shuette v. Coalition to Defend Affirmative Action on International Radio News Program
AKRON, OH, October 16, 2013 – The University of Akron School of Law professor Wilson R. Huhn spoke yesterday on the Voice of Russia's Due Diligence radio program, about the case Shuette v. Coalition to Defend Affirmative Action. He was interviewed by Carmen Russell-Sluchansky.
Click here to listen to the interview.
"I am grateful to have had the opportunity to describe to an international audience what this case is about. This case is not primarily about affirmative action, but rather about equal access to the political system."
Professor Huhn previously filed an amicus brief in the case from a group of law professors on behalf of the respondent, Coalition to Defend Affirmative Action that examined the history of attempts by persons opposed to civil rights to distort the political process, making it difficult or impossible for minorities to achieve their legal goals.
"The case, Shuette v. Coalition to Defend Affirmative Action, does not involve the constitutionality of affirmative action itself but rather, the constitutionality of a law that makes it more difficult for racial minorities, than for other groups, to achieve their legislative goals," said Professor Huhn. "The state of Michigan adopted a state constitutional amendment that prohibited state university officials from using race in university admissions."
Voice of Russia is an international radio news program that airs domestically in Washington, Miami and Chicago, as well as 160 countries worldwide. Due Diligence brings in-depth news and analysis on politics, law and policy featuring the top minds and the top newsmakers to present unabridged dissection of the day's events.
About The University of Akron School of Law
The University of Akron School of Law promotes justice, the protection of individual liberty and the rule of law through commitment to excellence in teaching, scholarship and service. The law school features a nationally-recognized program in intellectual property, as well as one of four Constitutional Law Centers in the United States. To learn more, visit uakron.edu/law.