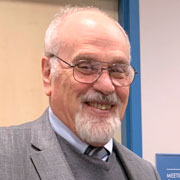 Ohio State Bar Association honors Akron Law professor Martin Belsky for longtime service
In his 50 years of service to the legal profession, Belsky has served as chief prosecutor in the city of Philadelphia, counsel to the Judiciary Committee of the House of Representatives, and dean at both Albany School of Law and at Akron Law, among numerous other appointments.
Student spotlight: Immigration Law Clinic experience paves the way to first job
My time at Akron Law has been instrumental in helping me find my passion for immigration law, says Cerena Ibara-Cech.
Akron Law team finishes in top 8 at National Appellate Advocacy Competition
After going undefeated at the regional tournament in Boston last month, 2L Michael Grund and 3L Lauryn Kitchen more than held their own against the best teams in the country at the national tournament held at the federal courthouse in Chicago.
Couple took different paths through the military to law school and engagement
Third-year students Mark Peasley and Kristin Leuchtag are in a good place: finishing up law school, jobs with law firms in their chosen fields, just bought a home, and engaged to be married.