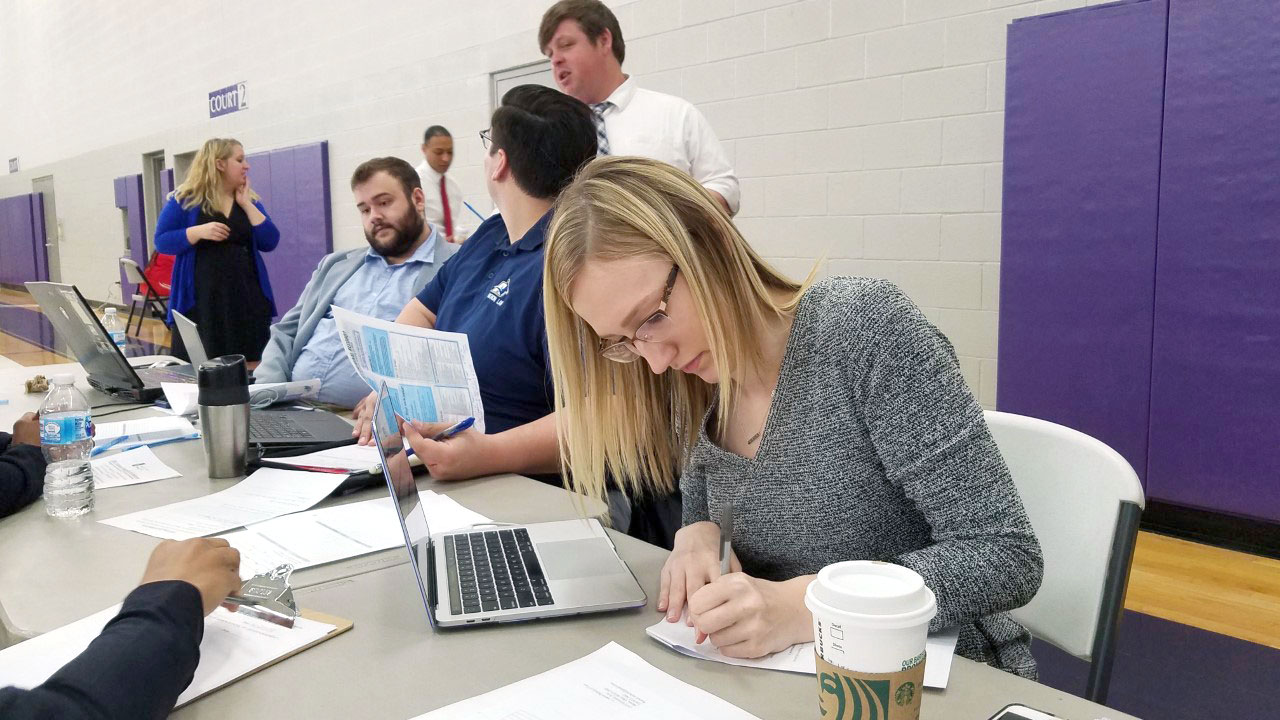 An Akron Law student assists a client at a Reentry Clinic.
Legal Assistance Clinics
Trademark Clinic
The Trademark Clinic engages students to assist businesses and individuals in protecting their trademark rights under the supervision of a licensed trademark attorney. The Akron clinic is one of a handful of law school clinics throughout the country that have been specially designated by the United States Patent and Trademark Office to allow law students to prosecute trademark applications.
For more information, contact the clinic at trademarkclinic@uakron.edu.
Small Entrepreneur and Economic Development (SEED) Clinic
In this transactional clinic, law students supervised by staff attorneys provide low-cost legal and business assistance to small and emerging businesses, nonprofits, and other social enterprises in Northeast Ohio. Students benefit from the experience of interacting with real clients seeking assistance with real-world issues.
To qualify for SEED Clinic services, a business must have less than $100,000 in annual gross revenues and have been in business for less than five years.
For more information, contact Professor. Doug Moseley at 330-972-6145 or ddm55@uakron.edu.
Reentry Clinic
Law students assist low-income clients to help file applications to expunge (seal) their criminal records, obtain Certificates of Qualification for Employment (CQE), and file clemency applications.
UA's Reentry Community Clinic has been named one of the best in the nation by National Jurist's PreLaw magazine.
It was also recognized by the American Association of Law Schools as an "Innovative and Outstanding Program" in 2015.
UA Reentry Clinic Releases Results of its Statewide CQE Survey.
Inmate Assistance Program
Law students travel to the Summit County and Mahoning County jails under the direction of staff attorneys to interview inmates and provide general legal information on criminal and civil problems.
This program provides valuable experience in understanding the criminal justice system, and the holistic set of problems facing incarcerated individuals. Supported by grants, some students in this program receive stipends while others volunteer for pro bono hours.
Litigation Clinics
Civil Litigation Clinic
The Civil Litigation Clinic assists low-income clients who are experiencing housing problems. Cases are referred to the clinic from Community Legal Aid Services, Inc. Students interview clients, investigate the case, and prepare the case for court. With a State of Ohio legal intern certificate, students represent clients in court under the supervision of the clinic staff attorney. Students have the opportunity to appear in the Akron Municipal Court, Stow Municipal Court and Barberton Municipal Court, and in administrative hearings at the local housing authority.
Domestic Relations Court Clinic
Students in this litigation clinic handle family law matters in the Portage County Domestic Relations Court. With their State of Ohio legal intern certificate, students supervised by an experienced practitioner handle matters of child support contempt, dissolutions and civil protection orders. Students appear in court, argue at hearings, prepare briefings, and advise clients of modest means referred by the Portage County Bar Association.
The Portage County Legal News profiles a judge and Akron Law graduate who is helping current Akron Law students and low-income Portage County residents at the same time: Judge Giulitto starts DR court clinic at Akron Law.
The Domestic Relations Clinic is featured in a story in the Record-Courier.
Immigration & Human Rights Law Clinic
The Immigration & Human Rights Clinic introduces students to the practice of immigration removal defense with a focus on asylum as a form of relief for individuals seeking protection from persecution in their home countries. Immigration Clinic students will provide direct representation for individuals seeking asylum while detained in the custody of U.S. Immigration and Customs Enforcement (ICE). Students will advocate for their clients before a U.S. Immigration Judge and appear frequently at the Cleveland Immigration Court. Students will help conduct "know-your-rights" presentations for groups of non-citizens detained at the Geauga, Butler, and Seneca County detention facilities and will assist with non-court based relief such as U-visas, Deferred Action for Childhood Arrivals (DACA), and prosecutorial discretion requests.
Students will learn immigration court procedure, client interviewing and counseling skills, trial advocacy skills, legal research and writing in the civil, administrative context, and the fundamentals of asylum as a defense to removal.

Interview on PBS
Elizabeth Knowles, assistant clinical professor of law, is interviewed on WVIZ-TV (PBS) Cleveland's Ideastream, during which she discussed Akron Law's Immigration and Human Rights Law Clinic, and the role our law students play in meeting a growing need for asylum and refugee law counsel.
Policy and Law Clinic
Health Law & Policy Clinic
The Health Law & Policy Clinic is located at Community Legal Aid in downtown Akron. Clinic students will participate in Legal Aid's medical-legal partnership, called the Health, Education, Advocacy, and Law (HEAL) Project, which partners with The University of Akron Nursing Center for Community Health, Akron Children's Hospital, and Summa Health System's Women's Health Center. The HEAL Project integrates lawyers (as well as paralegals and students) into the health care team (which includes doctors, nurses, psychologists, social workers, counselors, and other professionals) to resolve legal problems that are barriers to health.
Medical legal partnerships incorporate individual client representation with practice transformation and systemic policy work. The HEAL Project provides individual assistance to patients of its three health care partners. It also trains doctors and lawyers to use legal care to improve patient health, thereby transforming both the practice of medicine and of law. Systemic work of the HEAL Project organically arises from the health policy issues at stake on a local, state, and national level.
Students can expect to have significant client interaction in person and by phone. In addition, students will research and advance HEAL team progress on at least one policy or legal issue tailored to their interests.
Social Justice Lawyering Clinic
The Social Justice Lawyering Clinic combines a two-hour class with a one-hour clinic. This innovative clinic is team-taught by Professor Brant Lee and Clinical Professor Joann Sahl. Students in the clinic identify and work on projects to serve an identified need in the community. The Fall 2015 class selected projects to eliminate obstacles to public housing for those with criminal convictions. The students began the semester by participating in the first statewide Public Housing Authority (PHA) conference on the topic and then identified subsequent related projects.
---