SEED Clinic
Students in our SEED Clinic gain transactional business experience working directly with tech, small businesses and nonprofits.
Supervised by clinical professors, students gain real-world experience as they assist clients with a wide range of legal matters.
For students
The SEED Clinic provides second- and third-year law students with frontline transactional business experience. Supervised by staff attorneys, students work directly with tech and other small and emerging businesses and nonprofits. They undertake the formation of corporations and LLCs and help clients with operating and licensing agreements, commercial leases, or perhaps licensing of a patent or trademark.
"I worked on several operational and strategic issues directly with business owners and other stakeholders," said third-year law student Imokhai Okolo. "I prepared draft contracts and advice memos for SEED clients. It was the best experience I have gained thus far in law school, and it helped me gain confidence for my summer associate position with the Jones Day."
Third-year student Lisa Whitacre appreciated the opportunity to work with tech companies and on intellectual property-focused issues at the clinic.
"One of my best experiences was working with a client who was trying to get her invention to market. I reviewed her joint venture agreement with a foreign company and drafted independent contractor agreements with hardware and software companies. It was exciting and rewarding to be involved in bringing her invention to life."
The SEED Clinic also coordinates with the University of Akron Research Foundation (UARF) to support University researchers in setting up businesses following UARF's recognition of their commercially exploitable innovations. These clients offer additional opportunities for students to work with science technology companies.
For example, clinic students assisted UARF referral Fontus Blue, Inc., a software-as-a-service business that specializes in water treatment. What started as a hobby is now a company that counts 25 cities or their water suppliers as clients and is targeting sales of $1 million.
Here are some other SEED clients that students have worked with:
Bent Tree Coffee, LLC, an artisan coffee roaster in Kent, Ohio, has worked with the SEED Clinic from its inception.
Elevate Akron, Inc. is Akron's largest yoga event, attracting thousands to the festival each summer. We helped the nonprofit organization form and gain 501(c)(3) status.
Missing Falls Brewery LLC is one of the craft brewers that we have assisted. It opened in late 2018 on Main St. in the downtown Akron business center, Canal Place.
For small business
SEED provides small businesses with non-litigation assistance with business entity selection and filing requirements, operating agreements, transaction agreements such as sales, supply and hiring contracts. All work is produced by law students and is reviewed by licensed supervising attorneys. To qualify for SEED services, a business must have less than $100,000 in annual gross revenues and have been in business less than 5 years. 
We also coordinate with the University of Akron Trademark Clinic so that our clients may secure nationally registered trademarks. 
Podcasts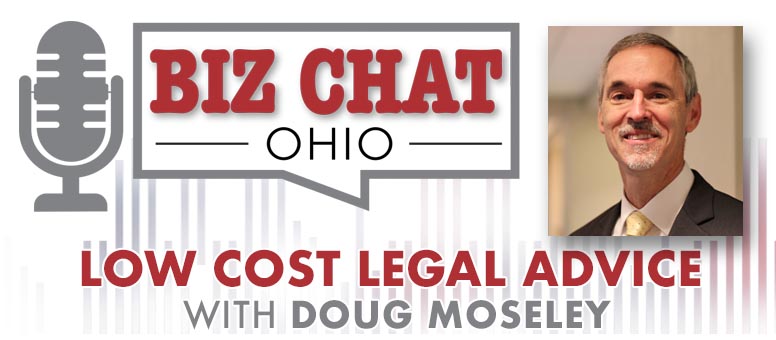 Podcast 2.5: Low-cost legal services for entrepreneurs! with Doug Moseley
Listen here: https://bit.ly/35YgFQ1
Special guest Doug Moseley is a lawyer with the University of Akron Law School SEED Legal Clinic, The SEED Legal Clinic provides very low-cost legal services for entrepreneurs. Its mission is to enrich their senior-level law school students by giving them experience dealing with real client matters under the supervision of staff attorneys, while exclusively serving new businesses that can't afford an attorney.
Information
Doug Moseley
330-972-6145
ddm55@uakron.edu
Doug Moseley is a Visiting Professor of Clinical Law and assists with the SEED Clinic. He holds a J.D. and an M.S. in Mechanical Engineering from The University of Akron, and a B.S. in Physics from The Ohio State University. He recently completed a successful career with Meggitt Aircraft Braking Systems, formerly Goodyear Aerospace Corp., last holding the position of Vice President of Research and Technology.
Clinical Professor of Law Gary Spring has been the Director of the SEED Clinic since 2010. He received his A.A. from Kent State University, B.A. from the University of Akron, and J.D. from The Ohio State University College of Law. In addition to Akron Law, he has taught at Rutgers-Newark School of Law and the University of Cincinnati College of Law. He also served as a law clerk for Justice Paul Brown, Ohio Supreme Court, and was a partner with Roetzel & Andress.
Related