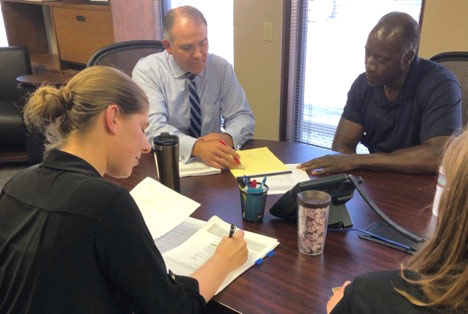 Trademark Clinic Director Daniel Thomson (center left) and students meet with client Robert Martin, founder of Coates Christian Apparel.
Trademark Clinic
For students
The Trademark Clinic provides second- and third-year law students who have completed required courses the opportunity to assist real-world clients with the filing of trademark applications under the supervision of licensed attorneys. Students interview clients, conduct trademark searches, prepare trademark applications, answer office actions from the U.S. Patent and Trademark Office, and draft trademark-related contracts.
"In retrospect, the Trademark Clinic was the most valuable experience I had in law school," said Nathan Gugliotta '17, now an attorney with the Akron law firm Gugliotta & Gugliotta, LPA, which specializes in business law and intellectual property representation. "In addition to filling out the intricacies of a trademark application and responding to substantive issues of registrability, we were also given the opportunity to interact directly with the clients and discuss the nature and needs of their brand. I was able to begin my practice with my feet on the ground because of the Trademark Clinic."
In the news
For small businesses
If you are a small business that meets certain income-eligibility requirements, the Trademark Clinic may be able to assist you in protecting your trademark rights. The clinic has filed over 100 trademark applications and obtained 48 registrations for small businesses like yours. Recent clinic clients include:
Contact Information
Daniel Thomson
trademarkclinic@uakron.edu
Dan is a U.S. Patent attorney who has personally filed or prosecuted over 800 trademark applications and over 400 patent applications. He is co-managing partner of Akron-based Emerson, Thomson Bennett LLC, a full-service intellectual property law firm. He has directed the Trademark Clinic since 2016.