Douglas D. Moseley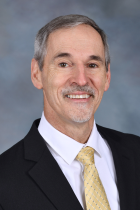 Title: Visiting Professor
Office: Room 313 C. Blake McDowell Law Building
Phone: 330-972-6145
Email: ddm55@uakron.edu

---
Biography
Doug Moseley joined The University of Akron School of Law in 2018 as a Visiting Professor of Clinical Law. He assists with the Small Entrepreneur and Economic Development (SEED) Clinic, and teaches Legal Drafting for transactional documents.
Professor Moseley recently completed a long and successful career with Meggitt Aircraft Braking Systems (formerly Goodyear Aerospace Corporation), last holding the position of Vice president of Research and Technology. In this role, he managed the company's carbon brake development and their broader research agenda across its US and UK operations, merging the R&D efforts at both sites to align with long-term business strategies. Professor Moseley also played a major role in developing and implementing Meggitt's current intellectual property protection program for comprehensively protecting IP from invention disclosure through patenting or other means.
These experiences led him to enroll in The University of Akron School of Law where he received his JD, cum laude. Professor Moseley additionally holds an MS in Mechanical Engineering from The University of Akron, and a BS in Physics from The Ohio State University. He holds six patents in the areas of aircraft electric brake actuation, brake heat management and sensing, and the use of high-energy capacity phase change materials in aircraft brakes. He brings to the School of Law the perspective of an industry executive who utilized both in-house and outside counsel services from a client's viewpoint, appreciating succinct, timely, and on-point legal guidance.
---
Education
B.S., The Ohio State University
M.S., The University of Akron
J.D., cum laude, The University of Akron
---