School of Law named a top school in the nation for trial advocacy
02/19/2018

The University of Akron School of Law has again been named a "top law school for Trial Advocacy" in the winter 2018 issue of The National Jurist's preLaw Magazine. It is one of only two Ohio law schools to earn this honor.

The recognition, which is based on the breadth of its curricular offerings in trial advocacy, places Akron Law among the top third of American Bar Association accredited law schools. The school was similarly recognized by preLaw Magazine in 2015 and 2016, and in recent years the magazine also has named Akron Law among the best schools for intellectual property law, bar exam preparation, and preparing prosecutors and public defenders. In 2015, the magazine named Akron Law a "Best Value" law school and listed its Reentry Clinic as one of the most innovative in the nation.

Trial advocacy skills are in high demand and opportunities to cultivate and master these skills are a key component of Akron Law's practice-ready curriculum. Students are exposed to the courtroom as early as their first week of law school, when they can serve as jurors and witnesses in Akron Law's innovative Summer Trial Academy program. The academy allows upperclass students to work directly with practicing lawyers to prepare and try simulated cases before real judges in their actual courtrooms.

Akron Law students also have the opportunity to take as many as 15 different courses and seminars in trial advocacy, litigation, and related skills and to earn a Certificate in Litigation as part of a J.D. degree. Students can choose from nine clinical programs that allow them to represent real clients in Municipal Court, Domestic Relations Court, Immigration Court and other forums. And they can participate in Akron Law's award-winning Trial Team, which travels around the country for litigation competitions and has won 18 national or regional titles.

"Akron Law has long enjoyed a national reputation for training first-rate litigators," said Dean Christopher J. (C.J.) Peters. "We are honored that preLaw Magazine has once again recognized our excellence in this area, alongside other outstanding law schools such as Duke, Notre Dame and Michigan."

PreLaw Magazine was established in 1998 as a news source for prospective law students. It is an offshoot of The National Jurist, which has provided legal education news to law students since 1991.
---
Media contact: Lisa Craig, 330-972-7429 or lmc91@uakron.edu.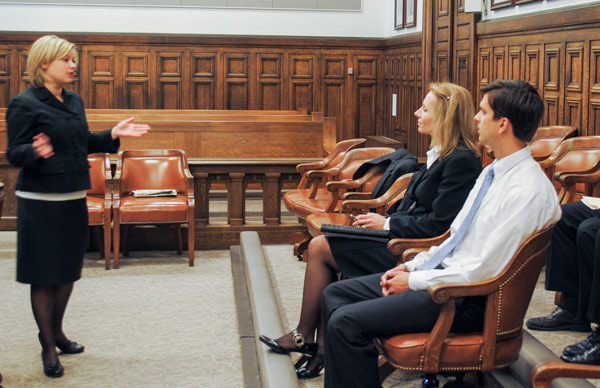 Students hone their trial advocacy skills in a classroom set up as a courtroom in the School of Law.