Akron Law students qualify for national competition
02/14/2017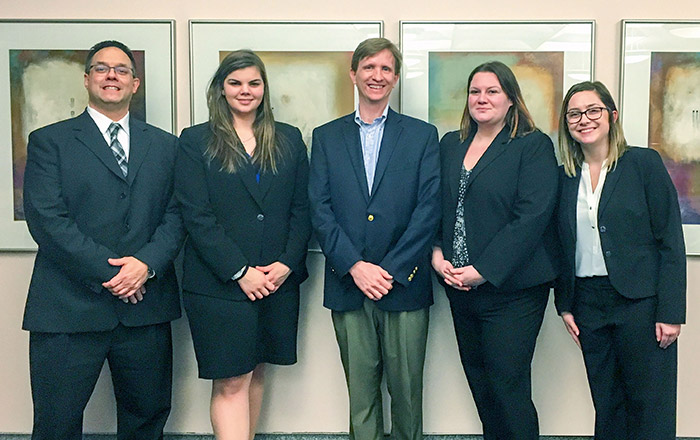 Pictured with President Matthew Wilson, center, are the two finalist teams. From left, David Wolfram and Nicolette Drotos, and Heather Steele and Kelsey Ewing.
Two students at The University of Akron School of Law are headed to the National Finals of the American Bar Association's Student Client Counseling Competition, which will be held at the University of Oklahoma College of Law in Norman, Okla., on March 17 and 18.
The team of Nicolette Drotos and David Wolfram, both part-time students, won the regional competition on Feb. 12 in Pittsburgh, Pa. The competition topic this year is privacy law. Also competing for Akron Law were the teams of first year, full-time students Heather Steele and Kelsey Ewing, and Hugh McDaniel and Amanda Zganjar.
These teams advanced to the regional competition based on their superior performances at Akron Law's intraschool client counseling competition on Jan. 14.
Narrowing the field – Akron Law teams advanced
All three Akron Law teams were among the six teams that advanced to the semifinal round after competing in three preliminary rounds on Feb. 12. Participating were teams from George Washington Law School, Washington and Lee School of Law, University of Pittsburgh School of Law, University of Louisville College of Law, and Northern Kentucky University College of Law.
Emerging from the semifinal round, the Drotos/Wolfram team went on after the final round to be named regional champions by the judges. The Ewing/Steele team came in second.
"This is an exceptional accomplishment, as the client counseling competition has traditionally been one of the largest national lawyering skills competition organized by the American Bar Association," says UA President Matthew J. Wilson, coach of the Akron Law teams. "After our teams finished first and third at the regional championship competition last year, it is great to see another superior performance from our teams at they went head-to-head against the best from other law schools. It is great to see Akron Law continue to excel in practical skills competitions."
Key to Success
Having coached the three teams over the past month, Wilson says the students "deserve praise and high marks for their diligent preparation, investment of time to practice, pursuit of excellence, professionalism and overall strong showing."
The client counseling competition enables students to develop interviewing, analytical and problem-solving skills through an initial client interview. In a simulated law office setting, two student attorneys act out a scene with one client in front of a panel of three judges. The student attorneys are evaluated on professionalism, teamwork, communication, interpersonal skills required to represent clients, issue spotting and fact-finding.
Wilson extended special thanks to the students, staff and professors that helped the teams prepare for the regional competition, including Interim Co-Dean Sarah Cravens, and assistant deans Brian Fuller and Alisa Benedict-O'Brien, as well as the students who volunteered to serve as clients for the many practice rounds.
---
RELATED