Akron Trial Team wins National Championship
04/15/2014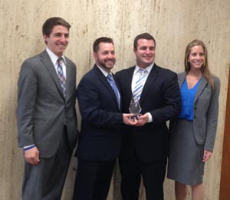 April 16, 2014
The University of Akron School of Law Mock Trial Team is National Champion once again! In the recent four-day American Association for Justice's Student Trial Advocacy Competition in Santa Monica, CA, the Akron Law team of advocates Joseph Darwal and Justin Workman, along with their witnesses Elizabeth Emanuel and C. Adam Carro, competed against the top trial programs in the United States. When all was said and done, Akron Law was crowned national champions for the fourth time in eleven years.
The Akron Law team's climb to the top began in March when they participated in a hard fought regional competition that narrowed the field from 224 teams down to the top 14. During that regional competition, Akron Law bested a field of teams from Case Western Reserve Law School, Michigan State, Cleveland State, Thomas Cooley, University of Cincinnati, Capital University, and the University of Toledo. That win entitled Akron Law to compete in the national competition.
Over the first two days of the national competition in Santa Monica, the Akron Law team lost its first two trials to the eventual #1 and #3 seeded teams, New York University and Duquesne University, in 2-1 decisions that were decided by the narrowest of margins. The disappointing early results meant that, in order to make the cut to the final eight, the Akron Law team would need to sweep all three judges in its round against South Texas College of Law, nationally recognized as one of the top five trial advocacy program in the country. And, that is exactly what they did.
From that point on, the Akron Law team could not be stopped. Joseph Darwal and Justin Workman consistently won the jury over during opening statement, witness examination and closing argument, while witnesses Elizabeth Emanuel and C. Adam Carro laid out Akron's case on direct examination and confounded opposing counsel on cross. Regardless of which side of the case Akron presented – plaintiff or defense - the results were the same. Together, the team swept through the quarterfinal and semi-final rounds against the Charlotte School of Law and Stetson University setting up a championship round against Syracuse University. In the end, Akron Law won over every member of the championship round jury panel, consisting of Los Angeles' most prominent trial attorneys, in a 3-0 decision that capped off an unprecedented comeback from the preliminary rounds.
The victory was the well earned by all four members of the competition team. The team was coached by Akron Law graduates Larry Sutter ('89) and Kevin Kita ('11) with the law firm of Sutter O'Connell, and Tony Wise ('13), with the Stark County Public Defender's Office.