Akron Law trial team makes historic run at prestigious mock trial tournament
06/10/2020

The University of Akron School of Law's student trial team of Imokhai Okolo '20 and third-year law student Andrew Burton had, in the words of trial coach Kevin Kita '11, "an historically dominant run" through the first three rounds of the prestigious Baylor Law Top Gun National Mock Trial Competition the last weekend in May. But they lost in the final four round to a Fordham Law team they had beaten earlier.

"While they fell short of their ultimate goal, Imokhai and Drew did an incredible job representing Akron Law and, more specifically, our trial program," said Kita, an attorney at Sutter O'Connell in Cleveland.

The invitation-only Top Gun competition, in its 11th year, is widely regarded as the most difficult trial competition in the country. It hosts the most talented students from the nation's top trial programs, and forces them to process immense amounts of information in just 24 hours and prepare for both sides of the case.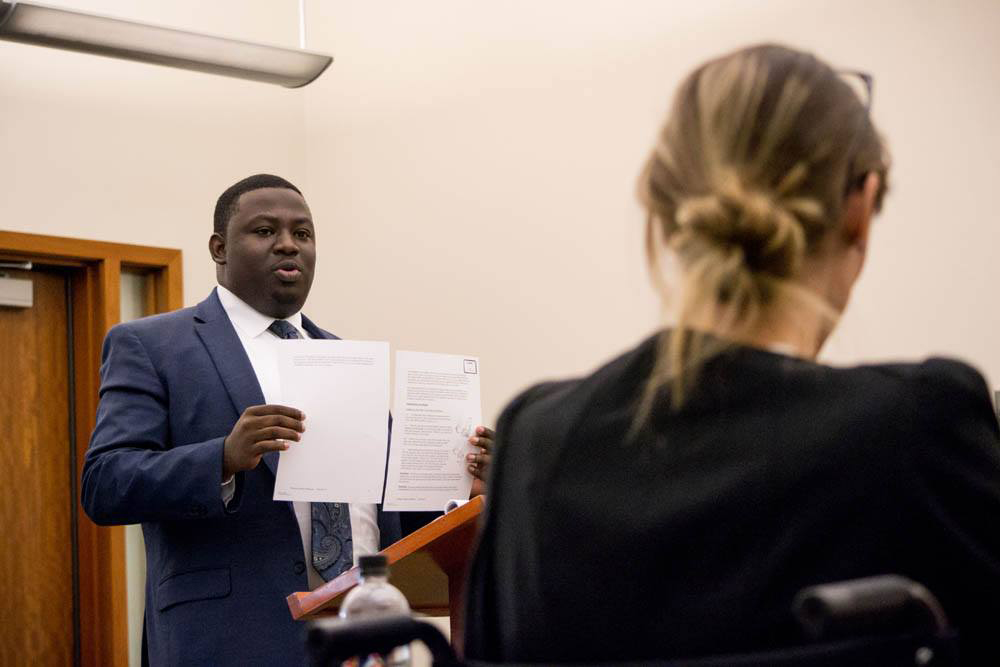 Imokhai Okolo is pictured here at the 2019 Top Gun Competition.
This year, the students were presented with a wrongful death case filed against the coach of a high school soccer team by the mother of a 17-year-old student who collapsed and died during a practice on a 105-degree day.
After the first three rounds, Okolo, the advocate, and Burton, his co-counsel, were 3-0. They won all nine ballots from those rounds, scoring 37 out of 45 possible points.
"At that point in the competition, only one other advocate had won three trials, no other advocate had won more than six ballots, and no one else had scored more than 27 points," Kita said. "Imokhai and Drew actually guaranteed themselves a spot in the final four before the preliminaries were over, something I've never seen before."
The duo's run ended with a split-decision loss in the final preliminary round. They still advanced to the semifinal round, but now as the #2 seed.
"Both Imokhai and Drew felt great about the case they tried in the final four round, but the judges found in favor of Fordham's advocate, and our run for a national championship ended there."
The notorious intensity of the Top Gun competition was compounded this year by the COVID-19 pandemic, which pushed it into an online format, forcing the students to adapt to a new and unfamiliar medium.
"In addition to the accolades Imokhai and Drew received for advancing into the top four of all law student advocates in the country, they also deserve special recognition for doing so in extremely challenging conditions," Kita noted.
For Okolo, who graduated in May, this was his last hurrah. But he certainly left his mark.
He was the first Akron Law trial teamer to advocate twice in the Top Gun. This past April, he won the first-ever National Online Trial Advocacy Competition, besting a field of 170 competitors from 67 different law schools. And his performance during the 2018-19 academic year led Akron Law to a fifth-place national ranking in the Fordham Law Trial Competition Performance Ranking.
"I want to thank the University, my coach, my mom and brother, my community, and Baylor Law for all of the support I have received, not only in this competition, but during my entire time in law school," said Okolo. "I am eternally grateful to have had the opportunity to compete in Top Gun twice and grow as an advocate and future member of the bar."
---
Media contact: Lisa Craig, 330-972-7429 or lmc91@uakron.edu.