School of Law trial team sweeps regional competition to qualify for nationals
03/03/2021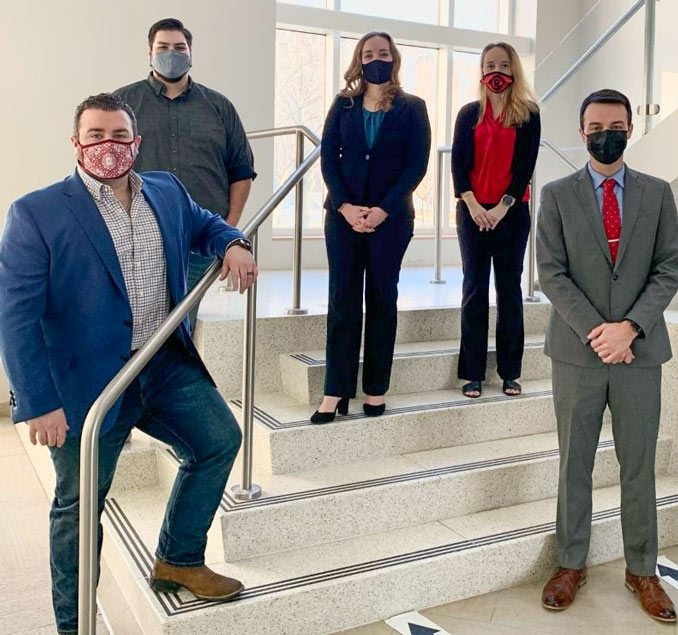 The trial team that swept through the regional round of the Texas Young Lawyer Association National Trial Competition on Feb. 26-27 include (left to right: Coach Joe Darwal, Austin Nagy, Madeline Connolly, Katelyn Miller, and Taylor Bennington.
The University of Akron School of Law trial team swept through the virtual regional competition of the Texas Young Lawyer Association National Trial Competition (TYLA NTC)  Feb. 26-27 to qualify for the national finals. The team of Madeline Connolly, Taylor Bennington, Austin Nagy, and Katelyn Miller went undefeated throughout the competition. The prestigious TYLA competition attracts teams from more than 140 law schools and involves more than 1,000 law students each year.
"Congratulations to Madeline, Taylor, Austin, and Katelyn on this well-deserved reward for their hard work," Akron Law Dean Christopher J. (C.J.) Peters said. "We also thank their volunteer coaches – and Akron Law trial team alums – Stu Baker '04, and Joe Darwal '14. Thanks also to trial team alum Kevin Kita '11, who supervises our outstanding trial team program along with Assistant Dean Charlie Oldfield."
Tradition of excellence
This latest victory continues a long tradition of Akron Law trial team and student competition excellence. It follows the prior weekend's success (Feb. 19-20) of two Akron Law Moot Court teams.
Students Hunter Miller and Dominie Burwell finished fifth in the nation in the 34th Annual August A. Rendigs, Jr. National Products Liability Moot Court Competition. They squared off in the quarterfinals against Florida State University, the top-seeded team and winner of best in brief. The Akron duo argued "off brief"—the opposite side of the brief they were originally assigned.
"Hunter and Dominie's hard work and dedication is a reminder that Akron Law's competitive litigation programs stand strong against the competition, no matter where they're from, and that our Moot Court Honor Society continues to train and turnout effective appellate advocates," Assistant Dean of Student Affairs Charles Oldfield said. "Congratulations to Hunter and Dominie and thank you to their coaches Seth Marcum '''20, and Christina Marshall '98."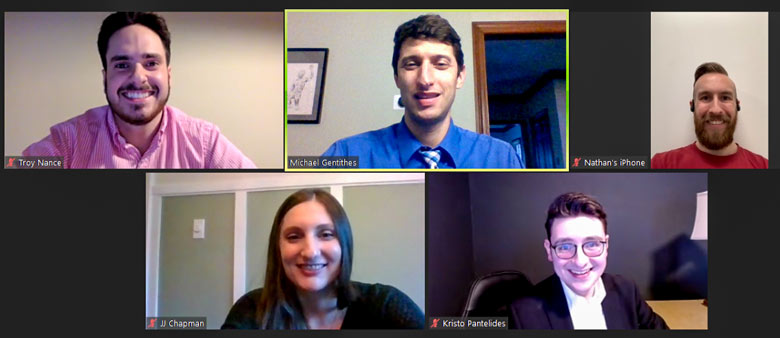 Akron Law's moot court team finished 5th in the nation at the recent ABA National Appellate Advocacy Regional Competition. Pictured above (clockwise from top center): team coach Professor Michael Gentithes, Nathan Newcomer, Kristo Pantelides, Jillian Chapman, and Troy Nance.
"Meanwhile, at the ABA National Appellate Advocacy Regional Competition, the Akron team of Michael Knopf, Kristo Pantelides, and Jillian Chapman excelled throughout the competition, advancing to the final round, where they put in an incredible argument but lost a split decision to a very strong University of Oklahoma team," Oldfield continued.
Pantelides also came home with the award for the fifth best oral advocate in the region out of nearly 100 competitors. A second Akron Law team of Troy Nance, Evangelos Sisalouis, and Nathan Newcomer impressed throughout the preliminary rounds but were they unable to advance. Professor Mike Gentithes coached both teams.
"Congratulations to all our outstanding student competition team members," Peters added. "And thank you to our alumni who give back to Akron Law by serving as coaches, and to our faculty members who volunteer their time to work with our competition team students."