A degree for non-lawyers: Master of Studies in Law appeals to professionals in other fields
04/07/2020

When most people think of a law degree, they have the Juris Doctor degree in mind. You go to law school for three or more years and earn your J.D. Then you pass the bar exam and start working for a law firm, or in the court system or government, or maybe for a corporation or a nonprofit legal advocacy organization.

However, in an increasingly complex world, there are many jobs where a deeper understanding of the law would be valuable, but perhaps not enough to justify the time, cost and commitment of a J.D. degree.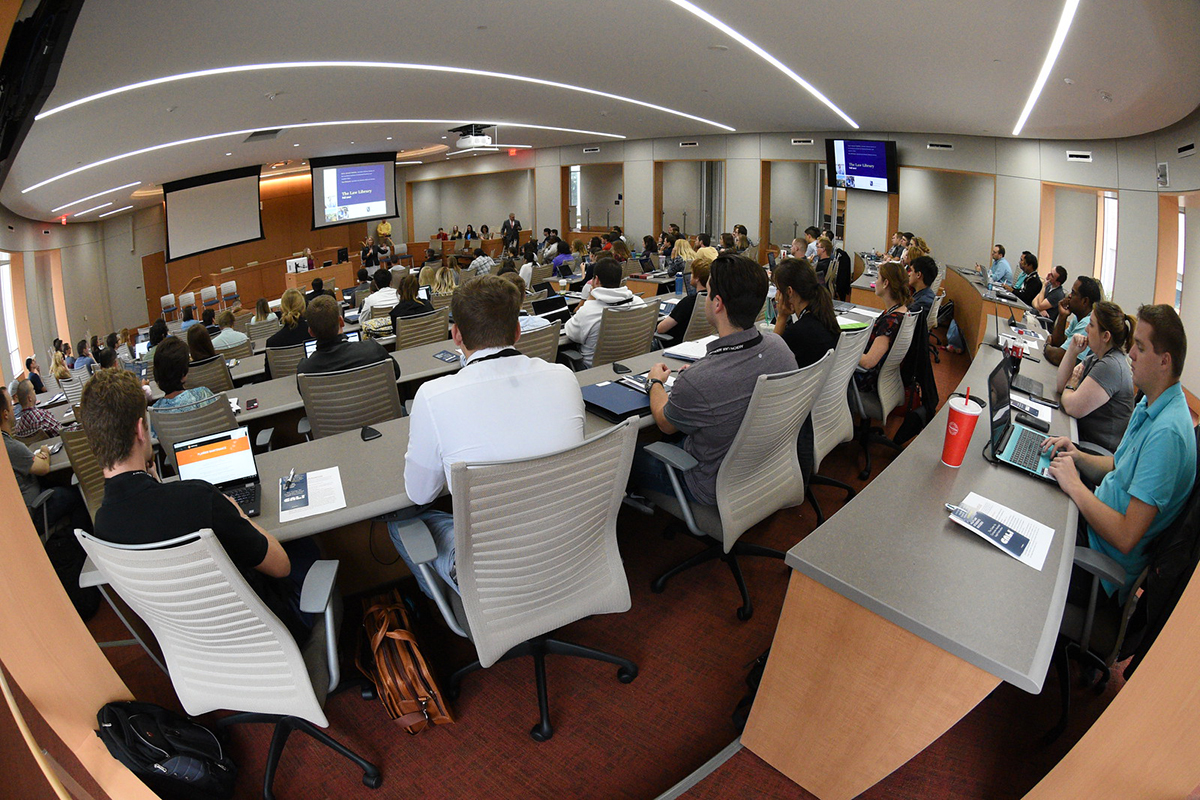 Students in Master of Studies in Law program benefit from taking their classes alongside the J.D. students.
"Here at The University of Akron and elsewhere, law schools have recognized that there are a lot of people out there whose work involves law or who routinely receive the advice and counsel of lawyers, but who don't need the license, who have no interest in being an attorney. Think of people working in human resources or compliance departments," said School of Law Dean Christopher J. (C.J.) Peters.
"That's why the Master of Studies in Law, or MSL, degree was created," he continued. "This is a relatively new degree designed to provide a working knowledge of the law with a focus on a particular area, but without the broad course of study required to pass the bar and become a lawyer."
Opening doors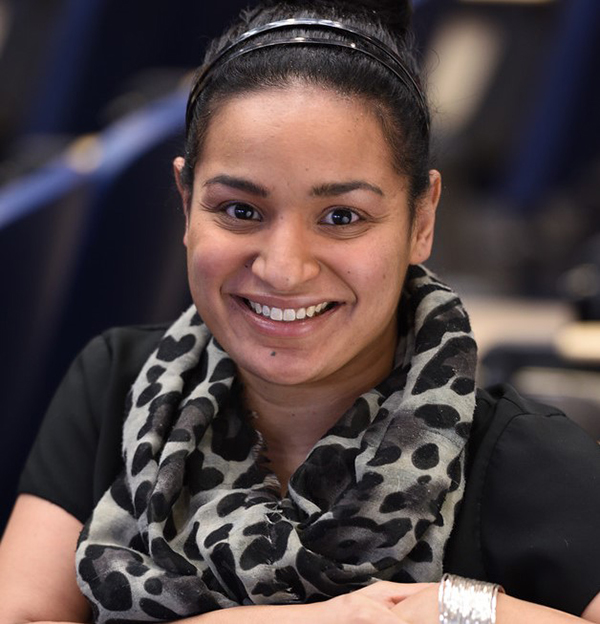 Elizabeth (Betsy) Johnson
Although the MSL degree was conceived to benefit non-lawyer professionals seeking to bring new skills to bear in their chosen fields, it may also help open the door to new opportunities for some degree holders.
For example, 2019 MSL graduate Elizabeth (Betsy) Johnson, who works in the University's Office of Students Accounts, focused her MSL studies on family law. Her goal is to pursue a new career path of working with young people who get in trouble with the law.
According to the website Best Value Schools, the top five careers you can pursue with a Master of Studies in Law are — compliance director, legal consultant, federal regulatory agent, court administrator and private investigator.
Moreover, the legal industry itself is changing, pointed out Alisa Benedict O'Brien, Akron Law assistant dean for career services and strategic initiatives.
"Advances in legal technology and how legal services are delivered are creating new career paths for both J.D. and non-J.D. law degree holders within law firms and in areas such as electronic discovery," she noted.
A flexible degree
To earn an MSL, students must satisfactorily complete 30 credit hours. That is nine to 12 courses, including a capstone experience. The degree can be earned in one academic year (full-time) or completed over several years as part of a flexible part-time program. Either way, the offerings include both online and in-person courses, and the MSL students attend classes alongside the J.D. students.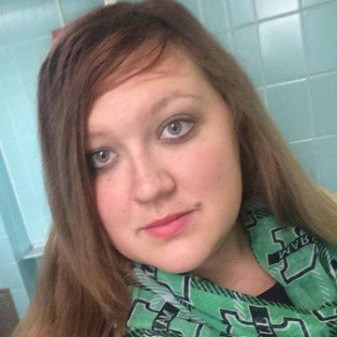 Rachel Gilliam
MSL student Rachel Gilliam likes it that way. "The professors don't treat us any differently than the J.D.'s. They expect you to do the readings. They will still cold-call on you. The other students don't know you are an MSL student."
Akron Law's MSL curriculum requires students to complete the foundational Introduction to Law and the American Legal System course as well as one of six other core courses. Beyond those courses, MSL students design a program that meets their specific interests in consultation with a faculty advisor.
For example, said Peters, a court administrator might take courses like Criminal Law, Civil Procedure, Torts and Administration of Criminal Justice. An environmental compliance director's courses might include Administrative Law, Environmental Law, Corporations, Negotiations, and Legislation and Regulation.
Admission requirements for the Akron Law MSL program are not onerous and standardized test scores are optional. Students may start their studies in either January (spring semester) or August (fall semester). The MSL degree does not qualify recipients to take the bar exam or practice law, and credits are not transferable to the Akron Law J.D. degree program.
The M.D.
Students enter MSL programs from a wide range of backgrounds. Dr. Sanjiv Tewari is a pulmonary and critical care physician and senior administrator at an Akron-area hospital, where he also manages a physician group. He started on his MSL degree in late 2017 and expects to finish at the end of this year.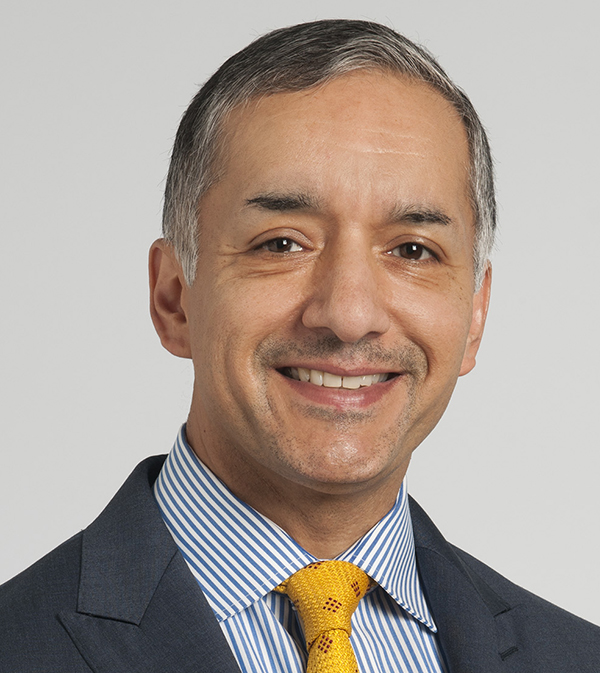 Dr. Sanjiv Tewari
With the changes in health care law, regulation and compliance under the ACA (Affordable Care Act of 2010), there has been a strong push to improve quality of care, patient experience and access under this framework," Tewari said. "I have many friends who are attorneys and thought that their unique skillsets would be valuable in the health care arena.
"Historically, physicians, looking to broaden their education, have gotten a Master of Public Health or Master of Business Administration degree," Tewari continued. "But increasingly, the skills that you acquire in law school are probably as important, if not more important, depending upon which role you want to serve in a health care enterprise.
"I chose this program because it was local and offered the flexibility that I needed due to my irregular work schedule," said Tewari. "There were online courses, but if I chose, I could actually go to classes and sit alongside other law students. That was a major draw for me, and I think that would be a major draw for most people in the healthcare industry.
"It's been a great program," Tewari added. "I've really enjoyed it. People have been really helpful there, especially the library staff and the administration, and the professors were very accommodating. I would tell anybody that the program has been excellent and I've really benefited from it. Akron Law was smart to get into this area. I know a lot of physicians who would benefit from this kind of study."
The entrepreneur
Growing up in Ukraine in the former Soviet Union, Lily Gerstenslager dreamed of going to law school.
"But to get into the highly sought-after degree programs like law, my family would either have had to come up with a multi-thousand-dollar bribe or have had an influential university contact willing to trade favors," she said. "My teacher parents, together earning $31 a month, couldn't afford the bribes and didn't have the connections."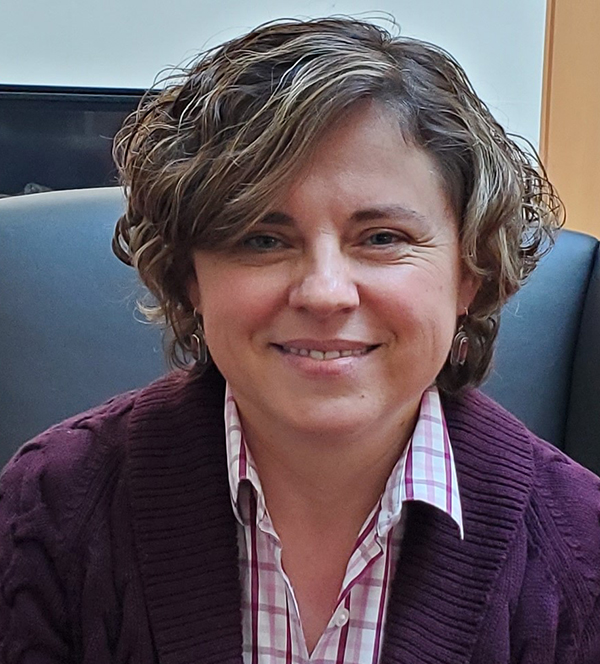 Lily Gerstenslager
So she earned a B.S. in physics and an B.A. in English and, after the collapse of the Soviet Union, immigrated to Northeast Ohio in 1995.
She and her American-born husband are entrepreneurs. Their first venture was an electrical contracting business they started in 1998. It specialized in installing CCTV and retail security-tag systems. Then in 2004, they founded Village Plastics, a successful plastic extrusion business that they sold to a larger company in 2013.
"The first legal advice we ever received came after we had already made the decision to sell the plastics company," Gerstenslager said. "When you're an entrepreneur, you operate with limited financial resources. I always felt that having additional knowledge in certain areas of law could have benefited our business."
So in 2018, when her youngest child was a senior in high school, Gerstenslager took the plunge and enrolled in the Akron Law MSL program with a focus on intellectual property law. "It was now or never. The initial idea was to obtain my J.D., but the MSL program has checked every box for what I wanted to achieve."
She is on track to graduate in December.
Based on the experience gained in selling the plastics company, she and her husband set up a business to buy and sell commercial and residential real estate. But they're not done with new ventures.
"We're definitely going to get into something again besides real estate, and the deeper understanding of the law will benefit us greatly," Gerstenslager said.
Visit the School of Law online for more information about the Master of Legal Studies program and for course descriptions.
---
Media contact: Lisa Craig, 330-972-7429 or lmc91@uakron.edu.