3L Akron Law student named a Presidential Management Fellows Scholar
02/03/2022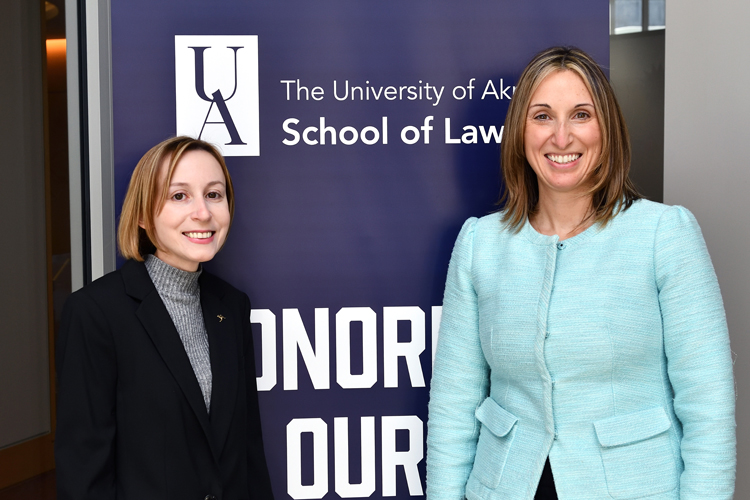 Third-year Akron Law student Dominie Burwell (left) has been selected for the prestigious Presidential Management Fellows Program. Assistant School of Law dean Alisa Benedict O'Brien recommended that she apply. (Photo: Scott Horstman)
Dominie Burwell, a third-year student at The University of Akron School of Law, has been selected as a 2022 finalist in the prestigious Presidential Management Fellows Program (PMF). Administered by the U.S. Office of Personnel Management, the PMF is a two-year leadership development program for entry-level advanced degree candidates designed to develop a cadre of potential government leaders.
"I've been familiar with the program since I started working in career services almost 11 years ago," said Alisa Benedict O'Brien, assistant dean of career services and strategic initiatives in the School of Law. "We post the application information for all our law students each year. We have had a few alumni successfully go through the program, but we have not had a PMF in several years. I will often recommend it to certain students who have expressed an interest in public service and in working in the federal government."
The program is highly competitive. Eleven hundred finalists were selected from more than 8,000 applications for the 2022 class. The finalists' pool represents approximately 99 different academic disciplines and 299 academic institutions worldwide.
Finalists access a program portal where they apply for PMF positions at participating federal agencies. Fellows earn a salary specific to the job grade and location and are eligible for the same benefits as most federal employees. Most of the available appointments are in the greater Washington D.C. area.
"I actually didn't know anything about the program until Dean O'Brien sent me the information," Burwell said. "When I saw that the program is about things that I'm passionate about--public service and getting involved in the federal government—and that you get a lot of training and mentorship, I was really interested in applying. I didn't realize how big a deal this program is until after I was selected."
O'Brien got to know Burwell through an externship she did with federal judge John Adams of the United States District Court for the Northern District of Ohio.
"I would correspond with her supervisors at the court and I learned about her work product and her work ethic," O'Brien said. "She is also a top student and is the editor-in-chief of the law review. All of that culminated in me recommending her for this program."
Burwell found her way to Akron Law from Arizona, where she grew up and graduated from Arizona State University with a Bachelor of Arts in American History and English Literature.
"I was looking at a number of different law schools," she said. "Akron Law contacted me after I took the LSAT and invited me to come out for one of their admitted students days. I just really loved the feeling of the law school, the different programs, and the Academic Success and bar prep programs they talked about. And It's been great. It's weird to say I've been having a lot of fun in law school, but I have been. I really enjoy just learning everything that I possibly can."
Professor Tracy A. Thomas, John F. Seiberling Chair of Constitutional Law and director of the Constitutional Law Center, has had extensive interaction with Burwell.
"Dominie served as a constitutional law fellow in the Center for Constitutional Law, where I supervised her work. She is one of the best fellows I have had in the program. In addition, she worked as an editor for the Center's ConLawNOW online journal, editing the work published there. Her research and written work was exemplary. She also exhibited good initiative in organizing and leading discussions with students and faculty in Center lunchtime programs on current issues of constitutional law."
Professor Bernadette Genetin has had Burwell in three of her classes, supervised her law review note and had her as Academic Success Program (ASP) fellow for a year. (Each first-year doctrinal class includes weekly group study sessions led by an upper-division student selected by the professor.)
"I would have liked to have had her for two years as my ASP fellow, but she couldn't do that and be editor of the law review," Genetin said. "I used to be the faculty advisor to the law review, so I understand what a responsibility it is.
"Dominie is strong at legal analysis and in applying what is learned in the classroom to practical problems. She has so much talent, and she has the ability to lead. She'll do well regardless of what she does."
Read More: The PMF Program opportunity