Akron Law Hosted "The History of the Northern District of Ohio" Symposium on Sept. 27
08/31/2012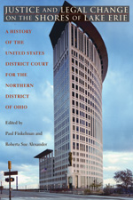 Akron Law hosted a symposium on Thursday, Sept. 27 celebrating the release of the book, Justice and Legal Change on the Shores of Lake Erie: A History of the Northern District of Ohio (Ohio Univ. Press 2012) that explores the many ways that the U.S. District Court for the Northern District of Ohio has affected the development of American law and history.

The book offers a "greatest hits" of cases from the Northern District, including the Kent State shootings, school desegregation, conscientious objection, abortion, and pollution on the Cuyahoga River. Beginning with the court's creation in 1855, the book traces cases such as fugitive slave rescues, political corruption, the Eugene Debs prosecution, to the immigration of alleged Nazi war criminal John Demyanjuk. It provided the backstory on the big cases that came before the court and confirms the significant role played by district courts in the history of the United States.
Nearly 100 people attended the afternoon symposium, which was followed by a reception and book signing.

Interim Dean Elizabeth Reilly, as well as Professors Tracy Thomas and Martin H. Belsky, wrote chapters for the book. Dean Reilly and Professor Thomas also participated as panelists.

Judge James G. Carr gave the welcoming remarks, and Professor Paul Finkelman (Albany Law) provided the keynote lecture titled "The District's First Political Trial: The Oberlin Fugitive Slave Case." Other symposium participants included Judge David Katz, Judge Dan Polster, Professor Roberta Alexander (Dayton), Professor Richard Saphire (Dayton Law), and Professor Keith Hirokawa (Albany Law). Chief Judge Solomon Oliver, Jr. offered closing remarks prior to the reception.

Other members of the judiciary participating in the audience were Judge Christopher Boyko, Judge C. Ellen Connally, Judge David D. Dowd, Judge Mabel Jasper, Judge Benita Pearson, and Judge Lesley Wells.

This event was live-tweeted. Visit Akron Law on Twitter or search the hashtag #akronlawhistory on Twitter for a recap of the event. In addition, the event will be available on the Akron Law YouTube channel.

Copies of Justice and Legal Change on the Shores of Lake Erie: A History of the Northern District of Ohio are available for purchase through the OU Press web site.