School of Law library awarded grant from Akron Bar Foundation
07/31/2018

As part of a continuing relationship between the Akron Bar Association (ABA), the Akron Bar Foundation and the School of Law at The University of Akron, the foundation has awarded Akron Law a generous grant to help provide the local legal community with legal research tools. This gift will allow members of the ABA to access the same free resources in the Akron Law library as current law students.

The grant funding will provide $3,000 for additional computer, printing and scanning equipment in the library. The grant will also cover annual subscription fees of $26,000 for Westlaw, Bloomberg Law and ABA resources, with a commitment to provide $26,000 in 2019 and 2020, making the total award amount $81,000. The costly nature of these subscriptions often prevent many solo practitioners, libraries, small firms and universities from gaining access on their own.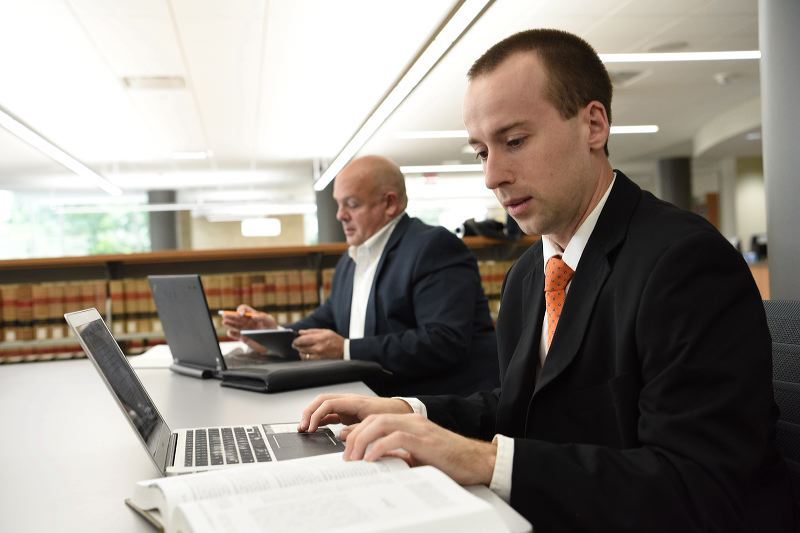 "The grant received from the Akron Bar Foundation will support the research needs of the members of the Akron Bar," said Emily Janoski-Haehlen, director of the law library. "I am excited to see more local attorneys in the law school using the library." These relationships with local bar members, she noted, also help smooth law students' transitions into the workforce and encourage them to stay local.
"This step will bring Akron Law to the forefront of Akron's legal community, helping not only solo practitioners in the city, but our own students as well," Janoski-Haehlen continued. "By making the Akron Law library a hub of research, we hope to bring together law students and current attorneys, fostering mentorships and networking connections vital to success in the field. This new service in the library will also provide an opportunity for current law students to see practicing attorneys in action."
In addition to the grant, the Akron Bar Foundation also provided generous scholarship assistance of $40,000, which will help up to six Akron Law students, for distribution during the 2018-19 academic year.
---
► Story by Karris McCollum
► Media contact: Lisa Craig, 330-972-7429 or lmc91@uakron.edu