Akron Law trial teamer makes history with a return trip to prestigious Top Gun mock trial tournament
04/17/2020

Akron Law student Imokhai Okolo poses a question in one of the rounds at the 2019 Top Gun National Mock Trial Competition.
---
AMONG THE MANY aspects of law school upended by the Covid-19 outbreak are the mock trial, moot court, and other legal-skills competitions that would normally be taking place this time of year. These programs not only provide law students with valuable practical experience, they also form the basis for national rankings and — in trial advocacy — invitations to the prestigious Baylor Law Top Gun National Mock Trial Competition in Waco, Texas.
Pandemic notwithstanding, the 11th annual Top Gun tournament will go on as planned – except as the first fully synchronous, online, live, remote one-on-one mock trial competition ever.
And Akron Law third-year (3L) Imokhai Okolo will make history as the school's first trial teamer ever to advocate twice in the Top Gun — last year and now this year.
Baylor created the tournament with the idea of pitting the best advocates from the best trial schools against each other for the honor of being designated as "Top Gun" — the best student advocate in the country — and bringing home the winner-take-all $10,000 prize.
Historically, Baylor invited the top 16 schools based on the rankings and permitted those programs to select their representatives.  With no rankings this year, Baylor changed the format and solicited individual nominations from a larger number of schools. Few nominees could have matched Okolo's credentials.
"I knew our nominee had to be Imokhai," Akron Law trial team coach and Sutter O'Connell attorney Kevin Kita '11, said. "He is a two-time national runner-up, and he was a semifinalist at last year's Top Gun, where his only losses came in the narrowest possible split-decisions to the eventual champion. But more than that, I know that by recommending Imokhai, we're sending a student who will take the lessons learned, pay them forward, and make Akron proud."
"Imokhai lives and breathes trial practice, both competing and teaching," Kita continued. "As an undergrad at Akron, he volunteered with the Law and Leadership Institute to pass along to the high school students what he'd learned though his high school and college experience. Since starting law school he's been a volunteer coach for the Case Western Reserve undergraduate mock trial program."
Unlike other mock trial competitions, Top Gun doesn't provide participants with the case file until 24 hours before the first round of trials begin. That's not much time to absorb the hundreds of pages of depositions, records, photographs, and videos and then devise a courtroom strategy.
"There is really no way to prepare ahead of time, except maybe to brush up on the rules of evidence and the rules of civil procedure," Okolo said. "It will definitely be a challenge."
Top Gun XI begins on Friday, May 29 and runs through May 31.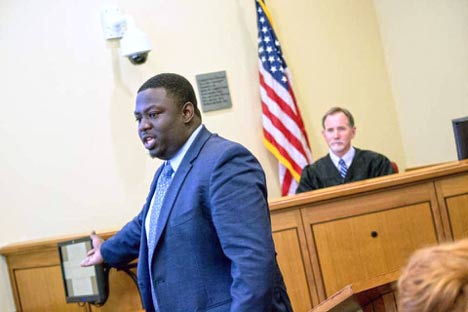 Akron Law student Imokhai Okolo during the 2019 Top Gun National Mock Trial Competition.
---