Akron Law Alumni Association Honored Outstanding Alumni and Faculty on May 17
04/12/2013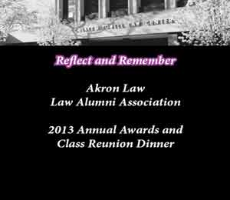 The University of Akron School of Law Alumni Association held its annual Alumni Awards and Class Reunion Dinner at 5:30 p.m. on Friday, May 17 in the Student Union Ballroom. The honorees were chosen for their achievements in the legal profession and their communities.
The 2013 Outstanding Alumni Award honorees are Joseph M. Gingo ('71),chairmen, president and CEO of A. Schulman; Kevin C. Krull ('77) vice president of business operations and general counsel of International Data Group; The Honorable Elinore Marsh Stormer ('82), Summit County Probate Court; and William T. Whitaker ('72), William T. Whitaker, Co., L.P.A.
Other awards being presented are:
John R. Quine Award for Outstanding Adjunct Faculty Member: Robert C. Kahrl, Distinguished Practitioner-in-Residence
Faculty Scholarly Publication Award: Elizabeth A. Reilly ('78),

Professor Emerita

of Law, "When Law and Conscience Collide: The Draft Nonregistration Case of United States vs. Mark Arden Schumaker" in "Justice and Legal Change on the Shores of Lake Erie: A History of the Northern District of Ohio" (Paul Finkelman & Roberta Sue Alexander, eds. 2012)
Faculty Practical Publication Award: Tracy A. Thomas, Aileen McMurray Trussler Professor of Law, "The War on Women," in "Women and the Law" (West 2012).
Faculty Blog Award: Wilson R. Huhn, C. Blake McDowell, Jr. Professor of Law,
April 5, 2012. "Suppressed 2006 Zelikow Memo Against Torture Released" (http://akronlawcafe.com/2012/04/05/suppressed-2006-zelikow-memo-against-torture-released)
Faculty Book Award: Wilson R. Huhn, C. Blake McDowell, Jr. Professor of Law,
"ObamaCare: (The Protection and Affordable Care Act): Is It Necessary, What Will It Accomplish, Is It Constitutional," (Carolina Academic Press 2012), published in Kindle format
Alumni Scholarly Publication Award: Jeffrey L. Gower ('02), "H1-B Visas," in Debates on U.S. Immigration (October 2012)
Alumni Practical Publication Award: Robert L. Kinder ('03), "Securing Insurance Coverage for Patent Infringement Lawsuits under CGL Insurance Policies Could Save Millions," Intellectual Property Today (March 2012)
Click here to view photos of the event.
About The University of Akron School of Law
The University of Akron School of Law promotes justice, the protection of individual liberty and the rule of law through commitment to excellence in teaching, scholarship and service. The law school features renowned programs in intellectual property, professional responsibility and trial advocacy, and is home to one of four Constitutional Law Centers in the United States, established by the U.S. Congress in 1986.To learn more, visit www.uakron.edu/law.