Akron Law trial team starts season with second place in national tournament
11/02/2018

Our School of Law's Trial Advocacy Program further solidified its position as one of the best in the United States this past weekend when its Trial Team took second place in the prestigious National Board of Trial Advocacy Tournament of Champions (TOC). UA was represented by students Cassandra Rosa, third year; Imokhai Okolo, second year; Alicia Harrison and Ashley Lanz, third year.

The TOC is an invitation-only tournament that extends offers to the top 16 programs in the country based on recent performance in major national competitions. This year's competition was hosted by Drexel University in Philadelphia. Attendees included Stetson University, Georgetown University, Harvard University, University of California Hastings, Wake Forest University and University of California Berkley.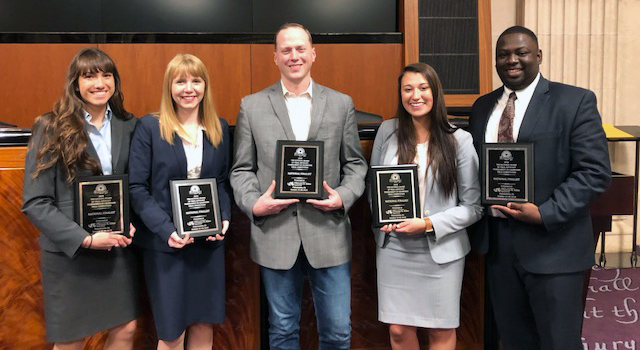 Alicia Harrison, Ashley Lanz, coach Kevin Kita ('11), Cassandra Rosa and Imokhai Okolo.
The case problem involved an employment discrimination claim based on the famous 1993 film "Philadelphia" featuring Tom Hanks and Denzel Washington. This year marks the 25th anniversary of the film's release. In the tournament's adaptation, a promising seventh year associate named Andrew Beckett, who appeared to be on track for partnership at a major Philadelphia law firm, was denied partnership in favor of another associate and then fired approximately six months later after revealing she was transgender and changing her name to Andrea. The plaintiff alleged the motivating factor behind each decision was her status as a transgender person. The defendant pointed to issues with performance, ethical concerns and firm economics as legitimate business reasons for its decision.
The competition teams were tasked with being able to try both the plaintiff and defense sides of the case. For Akron, Rosa and Okolo represented the plaintiff, and Harrison and Lanz represented the defense. Preliminary round trials are decided by a panel of three judges comprised of practicing trial counsel, as well as trial judges from the area. Judges scored the student advocates based on their skills in opening statement, direct examination, cross examination, closing argument and knowledge of the rules of evidence.
Over the course of two days, Akron swept through the preliminary rounds with a record of 4-0 (winning twice on each side of the case) against stiff competition from Georgetown, Belmont, California Western, and Baylor. Their efforts earned Akron the #2 overall seed heading into the semifinals on Sunday morning. There, the Akron team won a hotly contested match 2-1 over #3 seed Loyola LA to advance to the finals, where they finally fell to top-seeded Wake Forest.
The championship round was held in the new Kline Institute of Trial Advocacy ceremonial courtroom and decided by a panel of seven judges, including Federal District Court Judge Mitchell S. Goldberg, and prominent trial litigators from the Philadelphia area.
Akron Law's mock trial season continues the weekend of Nov. 2-4 with the National Trial Advocacy Competition in Detroit and the Annual Case Classic mock trial competition in Cleveland. Akron's Tournament of Champions team was coached by alumni Jacob Nicholas '17, Tony Wise '13 and Kevin Kita '11.
---
Media contact: Lisa Craig, 330-972-7429 or lmc91@uakron.edu.