Akron Wins!
03/24/2014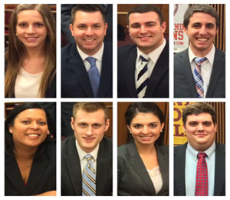 The University of Akron trial program added another regional championship to its trophy case this weekend when it took part in the American Association for Justice's mock trial competition in Cleveland, Ohio. Two Akron teams, consisting of advocates Lavell Payne and Ben Sorber, along with their witnesses Dakota Fox and Elayna Saad, and advocates Joe Darwal and Justin Workman, along with their witnesses Elizabeth Emanuel and C. Adam Carro competed in the field of 16. In the end, only Akron could beat Akron.

Over the first 3 days of competition, the Akron teams bested competition from Case Western, Michigan State, Cleveland State, Thomas Cooley, University of Cincinnati, Capital University, and University of Toledo. The teams put up a combined record of 8-0, winning 23 of 24 judges through the opening and semi-final rounds to set up an Akron vs. Akron regional final round that would be determined by the slimmest of margins.

With state court Judge Robert McClelland presiding, the teams faced off Sunday morning to determine which team would represent Akron law in the national competition. Both teams presented strong cases and scored nearly perfectly on all judges ballots. When all was said and done, the team of Joe Darwal, Justin Workman, Elizabeth Emanuel and C. Adam Carro took the regional title and punched their ticket to Santa Monica, California for April 10-13 where they will compete with the best advocates from 13 other regions across the country for the opportunity to bring home Akron's ninth national title.