Wayne College professor appreciates U.S. freedoms, establishes scholarship for UA law students
11/20/2013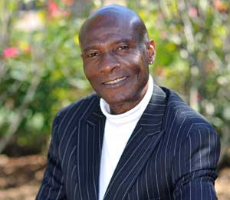 People who have never experienced discrimination often fail to appreciate U.S. legislation – enacted and refined over the years – that guarantees all citizens equal opportunity and equal protection under the law.
Dr. Jerry Obiekwe, however, has never taken those rights for granted during the many decades he has made his home in the United States.
A math professor who has taught since 1993 at The University of Akron Wayne College, Obiekwe left his native Nigeria to pursue greater educational opportunities. Along the way, he earned two doctoral degrees from U.S. institutions and gained something equally important: a special appreciation for the Civil Rights Act, the Voting Rights Act, and all laws that profoundly improved the rights of women and minorities in America.
Obiekwe, in fact, ultimately came to believe that such historic societal change was the product of a nation with great respect for law. "Law affects every aspect of life," he said. "It modifies behavior, creates an environment where intellectualism is allowed to flourish, and provides the parameters of a level playing field for all Americans."
Thus, grateful for U.S. laws that allowed him to fulfill his dreams, Obiekwe was inspired in 2013 to establish The Jerry C. Obiekwe, Ph.D., Ed.D., Endowed Scholarship in the School of Law, which provides financial assistance – in perpetuity – to deserving, second-year African-American students enrolled in the School of Law at The University of Akron.
Through the scholarship, Obiekwe desires to assist law students who ultimately can help ensure the opportunities that benefitted him remain available for future generations.
"We must continue to be vigilant, making certain these rights are not weakened or abolished," Obiekwe said. "Let's continue to find ways to make them better, as equal access to opportunities motivates all people to strive to the limits of their ability, which inevitably translates to the uplifting of society at large."
Donations to The Jerry C. Obiekwe, Ph.D., Ed.D., Endowed Scholarship in the School of Law are welcome.
Incidentally, the School of Law scholarship is the second endowed fund Obiekwe has created at The University of Akron. In 2012 he established a scholarship for students studying math at Wayne College. The Obiekwe Memorial Endowed Scholarship was a nod to his beloved late parents, S.A. and C.E. Obiekwe, who believed a university-level education was a positive investment that never stopped yielding dividends – to the individual and to society.