Former French Major Inducted into UA Sports Hall of Fame
On February 26, 2016, Jimmal Ball (French Major) was inducted to the University of Akron Sports Hall of Fame during the ceremony at the Quaker Station Ballroom. The mission of the Hall of Fame is to recognize student-athletes who have distinguished themselves by virtue of their outstanding performance. Jimmal started his career on the UA basketball court in 1996 and left Akron in 2000 to play professional basketball in Europe, mostly in France. He came back to the U.S. in 2014 and received his degree in French in 2015. Congratulations, Jimmal!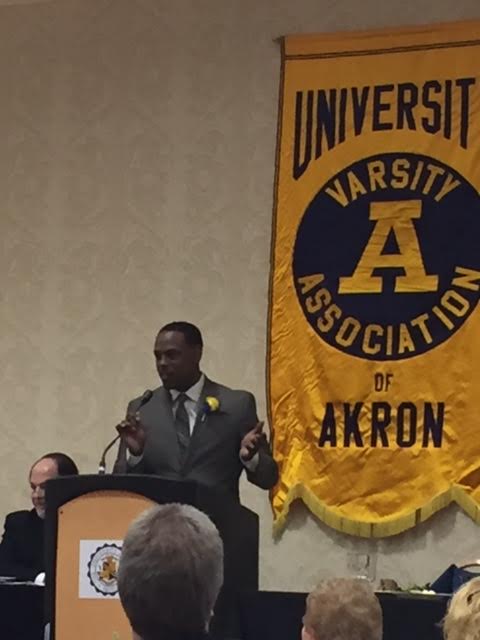 How your gift can extend John Buchtel's legacy...and your own
The Buchtel College of Arts & Sciences was founded in 1870 by Akron industrialist John Buchtel and nurtured into a world class university by generations of hard working Northeast Ohio residents.
Built to create opportunities for our children...to build a better life for their children...Our college still stands today as a cornerstone of opportunity for Northeast Ohio families and communities!
Your support can help us honor the tradition of serious intellectual inquiry that John Buchtel envisioned, our parents and grandparents extended, and we now strengthen to pass onto our children.
Please consider giving online to support our college.
Modern Language Alumni
We would like to hear from you!
Update us on all of your accomplishments and adventures.
Send your updates to modlangsa1@uakron.edu
Ways to Give
Support Students & Faculty
To learn more about how a contribution to a BCAS scholarship fund supports student success, click here.
Your gift can help the faculty continue to conduct the world-class research that brought in over $7 million of research grant support in 2009 and resulted in more than 350 scholarly publications. To learn more about how your contribution can support the best in advanced research, click here.
Our college depends on your support and leadership. To learn more about how you might help the college, read about the Dean's Advancement Council.