PHILOSOPHY ALUMNI QUESTIONNAIRE
Click HERE to complete a UofA Philosophy Alumni Questionnaire. We look forward to hearing from you.
WHY GIVE?
Contributions from alumni, friends, and corporations provide funds to purchase special items and services for the Philosophy Department that we otherwise could not afford. They also help promote projects and programs that otherwise might not be possible. Every contribution helps in some way towards the continuing growth of the department.
Some employers are willing to match charitable donations to higher education institutions. So, check with your employer to find out if matching funds could enable you to double your personal contribution.
Thank you for your support!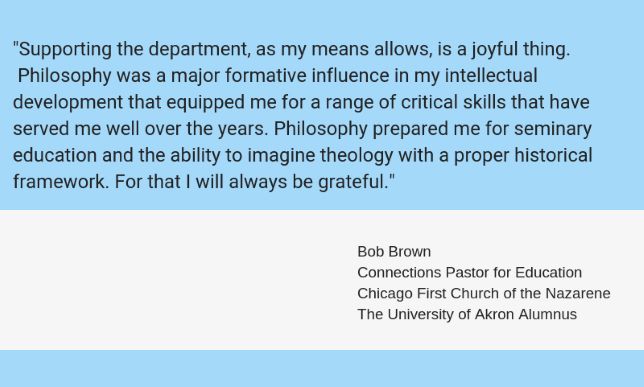 ---
PHILOSOPHY DEPARTMENT WISH LIST
Funding to create an ANNUAL PUBLIC PHILOSOPHY LECTURE to bring prominent outside philosophers to campus
Funding to create a PHILOSOPHY SCHOLARSHIP FUND to provide support for students to attend the Oxford University summer program and national level conferences
Funding to create a new staff position, ADMINISTRATOR OF BIOETHICS INTERNSHIP PROGRAM, as this program is currently on hold due to this need
---