Dr. John Huss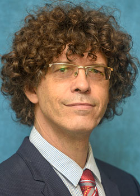 ---
Biography
Professional interests:
Philosophy of Science,
Applied Ethics,
Philosophy of Medicine,
Philosophy & Popular Culture
---
Research
My areas of specialization include philosophy of science, philosophy of biology, ethics, and philosophy of popular culture. I am especially interested in philosophical implications of metagenomics and microbiome research, as well as philosophical issues raised by attempts to reconstruct the geologic and evolutionary past.
Publications
Huss, J. 2018. "La paléontologie: distancer le temps." In Christophe Bouton & Philippe Huneman (eds.), Temps de la nature, nature du temps. Paris: CNRS Editions. p. 239-266.
Huss, J. 2017c. "Fecal Transplant Bioethics: Beyond Chicken Little." The American Journal of Bioethics, 17 (5): 48-50.
Huss, J. 2017b. "Evolution, intuitions, and institutions in the ethics of Peter Singer." Chapter 16 in Etyka o Współczesności. Współczesność w Etyce [Ethics of Contemporary Life, Contemporary Life of Ethics]. Edited by Dorota Sepczyńska, Marek Jawor, and Andrzej Stoiński. Olsztyn, Poland: Wydawnictwo Uniwersytetu Warmińsko-Mazurskiego w Olsztynie, p. 151-167.
Huss, J. 2017a. "Paleontology: Outrunning Time," Chapter 9 in The Time of Nature: The Nature of Time (Boston Studies in the Philosophy and History of Science). Edited by Christophe Bouton and Philippe Huneman. Heidelberg: Springer, p. 217-243.
Huss, J. 2014a. "Methodology and Ontology in Microbiome Research." Biological Theory [Thematic issue: Ecosystems or Organisms?] 9 (3): 1-9.
Huss, J. 2014b. "Popular Culture and Philosophy: Rules of Engagement." Essays in Philosophy 15: 19-32.
Huss, J. 2014c. "Philosophy of Biology: Genetic Reductionism and Behavioral Genetics." Bioethics, 4th Edition. Edited by Bruce Jennings. Farmington Hills, MI: Macmillan Reference.
Rollin, Bernard with J. Huss. 2013. "Planet of the Apes and Scientific Ideology." Planet of the Apes and Philosophy: Great Apes Think Alike. Edited by John Huss. Chicago: Open Court (2013).
Huss, J. 2013. "Serkis Act." Planet of the Apes and Philosophy: Great Apes Think Alike. Edited by John Huss. Chicago: Open Court (2013).
Callier, S., Huss, J., and E. Juengst. 2010. "GINA and Pre-Employment Criminal Background Checks." Hastings Center Report 40 (1): 15-19.
Juengst, E. and J. Huss. 2009. "From Metagenomics to the Metagenome: New Images of the Human from 'Translational' Genomic Research." Genomics, Society, and Policy 5 (3): 1-19.
Huss, J. 2009. "The Shape of Evolution: The MBL Model and Clade Shape." The Paleobiological Revolution. Edited by Michael Ruse and David Sepkoski. Chicago: University of Chicago Press, p. 326-345.
Huss, J. 2008. "Johnny Cash and Justice." Johnny Cash and Philosophy: The Burning Ring of Truth. Edited by John Huss and David Werther. Chicago: Open Court, p. 183-195.
Huss, J. 2006. "David Hume and Monty Python on Religion." Monty Python and Philosophy. Edited by Gary Hardcastle and George Reisch. Chicago: Open Court, p. 141-151.
---
Education
Ph.D., Conceptual Foundations of Science, The University of Chicago
M.S., Geophysical Sciences, The University of Chicago
B.S., Geology, Beloit College
---