Amanda L. Thayer, Ph.D.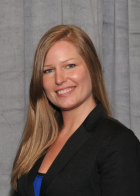 ---
Biography
Dr. Thayer is an Assistant Professor of Industrial/Organizational Psychology at The University of Akron where she leads the Advancing Collaboration and Teams In Organizations and Networks (ACTION) Lab. Her research is focused on understanding dynamic teamwork and collaboration. More specifically, Dr. Thayer's work seeks to understand the impact of team composition and interpersonal dynamics on team- and system-level outcomes. Her current research includes investigation of dynamic composition of virtual multiteam systems, dynamic teamwork (e.g., trust, cohesion), teamwork state profiles, and team knowledge management and innovation. Prior to joining the faculty at The University of Akron, Dr. Thayer completed her doctorate at the University of Central Florida (UCF), where she worked for the Institute for Simulation and Training. She has conducted both lab- and field-based research for government agencies, the military, and industry, including leadership of several projects funded by the U.S. Army Research Institute and NASA. She has played an integral role in several interdisciplinary research efforts and received an award for cross-disciplinary communication and collaboration from UCF's College of Business Administration. She is a member of the Society for Industrial and Organizational Psychology (SIOP) and Academy of Management (AOM). She serves as a reviewer for journals such as American Psychologist and Journal of Trust Research, and is Secretary of the Interdisciplinary Network for Group Research (INGRoup). Dr. Thayer obtained her B.A. in Psychology from the University of North Carolina at Wilmington. Her work to date includes more than 50 publications and conference presentations.
---
Publications
Shuffler, M. L., Kramer, W. S., Carter, D., Thayer, A. L., & Rosen, M. (2017). Leveraging a team-centric approach to diagnosing multiteam system functioning: The role of intrateam state profiles. Human Resource Management Review.

McClurg, C. E.*, Petruzzelli, A.*, Chen, J.*, & Thayer, A. L. (2017). Challenges and new directions in examining team cohesion over time. In E. Salas, W. B. Vessey, and L. Landon (Eds.), Research on Managing Groups and Teams: Team Dynamics Over Time. Emerald Group Publishing Limited.

Salas, E., Shuffler, M. L.,

Thayer, A. L.,

Bedwell, W. L., & Lazzara, E. H. (2015). Understanding and diagnosing teamwork in organizations: A scientifically based practical guide.

Human Resource Management, 54

, 599-622

.

Grossman, R.,

Thayer, A. L.,

Shuffler, M. L., Burke, C. S., & Salas, E. (2015). Critical social thinking: A conceptual model and insights for training.

Organizational Psychology Review, 5

, 99-125.

Miloslavic, S., Wildman, J. L., &

Thayer, A. L.

(2014). Structuring successful global virtual teams. In Wildman, J. L., & Griffith, R. L. (Eds.).

Leading global teams: Translating the multidisciplinary science to practice

(pp. 67-87). New York, NY: Springer.

Thayer, A. L.,

Rico, R., Salas, E., & Marlow, S. L. (2013). Teams at work. In M. C. W. Peeters, J. de Jonge, & T. W. Taris (Eds.), An introduction to contemporary work psychology (pp. 434-457). Oxford, UK: Wiley-Blackwell.

Kramer, W. S.,

Thayer, A. L.,

& Salas, E. (2013). Goal setting in teams. In E. Locke & G. Latham (Eds.),

New developments in goal setting and task performance

(pp. 287-310)

.

New York: Rutledge.

Burke, C. S.,

Thayer, A. L.

, Grossman, R., Salas, E., DiRosa, G., & Estrada, A. (2013). Cohesion in large scale, complex systems: A focus on the role of shared knowledge. In M. A. Clark, J. A. Espinosa & Mohammed, S. (co-chairs), Team Knowledge Measurement and Representation in Large Collectives.

Academy of Management Proceedings. doi: 10.5465/AMBPP.2013.14176symposium

Wildman, J. L.,

Thayer, A. L.

, Rosen, M. A., Salas, E., Mathieu, J. E., & Rayne, S. R. (2012). Task types and team-level attributes: Synthesis of team classification literature.

Human Resource Development Review, 11,

97-129.

Wildman, J. L.,

Thayer, A.L.,

Pavlas, D., Salas, E., Stewart, J. E., & Howse, W. (2012). Team knowledge research: Emerging trends and critical needs.

Human Factors, 54,

84-111.

Thayer, A. L.

, Wildman, J. L., & Salas, E. (2011). I-O psychology: We have the evidence; We just don't use it (or care to). Industrial and Organizational Psychology: Perspectives on Science and Practice, 4, 32-35.
---