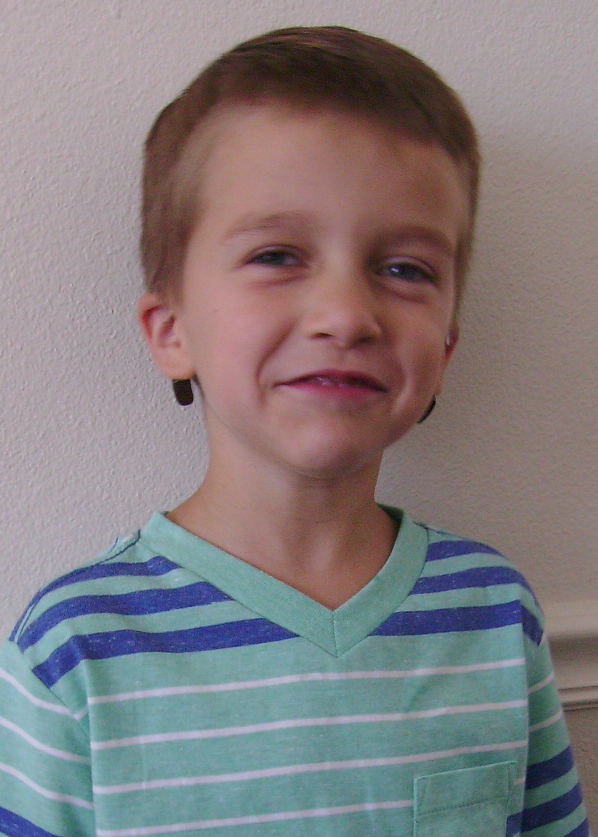 What would seem a common event for most five-year-olds is a miracle for Alex, who was born with permanent, profound hearing loss in both ears. Unable to hear, the youngster seemed headed for a lifetime of daunting hurdles that would severely impact his development.
Thanks to a team led by researcher Dr. K. Todd Houston, a professor at The University of Akron, Alex and other children just like him are beginning school with speech and language skills that are on par with their hearing peers.
"Dr. Houston helped give us something back I wasn't sure was possible when Alex was first diagnosed with hearing loss," said Alex's mother, Nancy. "Now, I can't get him to stop talking, which is truly wonderful."
And that's news worth hearing – for Alex's family and each of us, since the cost to society over the educational lifespan of a child with untreated hearing loss can exceed $1 million.
Research, teamwork lead to success
Under the direction of Dr. Houston, the Audiology and Speech Center in UA's College of Health Professions and the Ear, Nose and Throat Center at Akron Children's Hospital work together to provide children with hearing loss in Ohio with comprehensive, family-centered early intervention services that support listening, spoken-language, and age-appropriate communication. Children and families receive weekly individualized therapy, which supports the best patient outcomes.
This critical listening and spoken-language program, dubbed ZipsHear, is delivered on The University of Akron campus for local families – and via videoconferencing hardware and software to families who live throughout Ohio. The long-distance component, known as the Telepractice and eLearning Lab (TeLL), was launched by Dr. Houston in February 2012 following extensive research, which demonstrated that an Internet delivery of intervention services (telepractice) could effectively meet the needs of children with hearing loss and their families.
"Using these services, children from rural areas and families who lack transportation now can receive the high-quality listening and spoken-language services they desperately need, directly in their homes," said Houston.
The result? More consistent services for the family, fewer cancelations, and improved developmental and communication outcomes for the child.
ZipsHear
In Ohio alone, more than 450 newborns are identified with hearing loss each year, and others will develop hearing loss in early childhood. In fact, the National Institutes of Health reports that nearly three of every 1, 000 children in the United States are born deaf or hearing-impaired, and studies show that children with untreated hearing loss:
Experience academic difficulty through high school and beyond;
Read at only a third-grade level by the time of high school graduation; and
Require ongoing taxpayer assistance as adults due to delays in language and speech development, which often are linked to low self-esteem and behavioral problems.
Every $75 gift covers one hour of therapy. Your donation makes a real difference!
Click to Give a Gift
ZipsHear is helping to make such dire scenarios a thing of the past by opening the world of sound to hundreds of deserving children just like Alex. With ZipsHear, children with hearing loss receive comprehensive, timely, and coordinated listening and spoken-language services, including the regular hearing, speech, and language evaluations they require to become successful communicators.
Thanks to private donations, the UA-led team is able to provide the recommended 45 hours of therapy at no cost to deserving families. At $75 per session, the cost often is prohibitive even for families with insurance, since typically only 10 sessions are covered, leaving out-of-pocket expenses of more than $2,700.
Every child deserves the very best start in life! Please support the ZipsHear Scholarship Fund, which delivers outstanding services to children with hearing loss and their families in Ohio. Your gift offers real hope to children like Alex and to families determined to help loved ones, despite the hurdles of hearing loss.