Basic undergraduate tuition costs and fees
Bachelor's degree estimates for fall 2020
The table reflects estimated rates before scholarships for two semesters (fall and spring) for in-state tuition and out-of-state tuition. It is based on 16 credit hours per semester.
See a second table lower on this page for associate degree estimates.
| | Ohio residents | Non-Ohio residents |
| --- | --- | --- |
| Tuition & fees | $11,635 | $15,500 * |
| Room & board | $11,220 ** | $11,220 ** |
| Total | $22,855 | $26,720 |
Scholarships
What does it cost to attend a four-year college? The true cost of attending UA is often lower because we award tens of millions in scholarship aid annually. We offer the Akron Guarantee Scholarship, which increases in value as you earn credits. Plus, for Ohio residents pursuing a bachelor's degree full time, we guarantee fixed tuition for four years.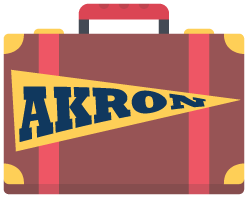 * Scholarship for non-Ohio residents
Non-Ohio residents with a 3.0+ GPA and 20 ACT or 1020 SAT would receive the Akron Advantage Award for $3,000 immediately. They would also receive the Akron Guarantee Scholarship to further reduce undergraduate tuition costs. See details.
** The University offers many housing and dining options. The room-and-board charges are estimated using mid-range costs for housing and the most popular meal plan (board), providing two meals a day. See housing and dining options.
Non-resident surcharge is $1 per credit hour for students enrolled in online degrees and/or certificates (online courses only).
RELATED:
TUITION FREEZE FOR FOUR YEARS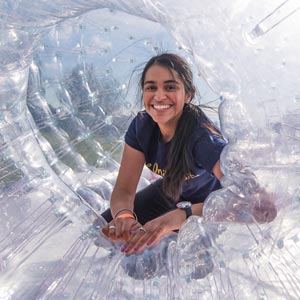 The University of Akron tuition freeze helps you plan for and accurately predict the cost of a four-year college education. Our Tuition Guarantee Program is designed for full-time, bachelor's-degree seeking students from Ohio.
The program provides fixed tuition, select fees, and room-and-board rates for the incoming class for four years.
DETAILS: Tuition Guarantee Program eligibility, summer start and exceptions
---
Associate degree estimates for fall 2020
We offer associate degrees through our College of Applied Science and Technology.
The in-state and out-of-state tuition and fee estimates below are based on a full-time undergraduate course load of 12 to 18 credits per semester. Other miscellaneous fees are likely to apply. See details.
| | Semester | Academic year |
| --- | --- | --- |
| Ohio resident | $3,934.20 | $7.868.40 |
| Nonresident surcharge | $322.45 per credit hour | |
| Transportation | $175 | $350 |
| Books and supplies | $450 | $900 |
Rates effective fall semester 2020. Undergraduate tuition and fees are subject to change.