Brittyn DeWerth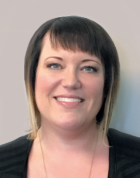 ---
Biography
In addition to teaching full-time, Brittyn DeWerth is the Owner and Creative Director of Type Twenty Seven—a graphic design and letterpress studio in Cleveland, Ohio.
Brittyn has been fortunate to be involved in the design of several Cleveland International Film Festival campaigns, the design of the Sherwin-Williams "Center of Excellence," Yoko Ono's "Image Peace" traveling installation and—most recently—the NAMII Innovation Center in Youngstown as part of Barack Obama's goal to bring manufacturing back to America.
Over the years, her work has been recognized nationally and internationally in numerous design competitions, books and magazines. In addition, she has received top honors from AIGA (the professional association for design) for the 32nd Cleveland International Film Festival poster (now part of the permanent design collection at the Denver Art Museum in Colorado).
Brittyn has been teaching at the Myers School of Art since 2012.
---
Education
BFA, University of Akron
---