Melissa Olson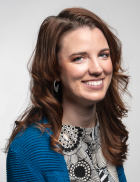 Title: Manager of Student Affairs
Office: Folk Hall 103C
Phone: 330–972–5959
Email: mso3@uakron.edu

---
Biography
Melissa Olson attended The University of Akron and graduated summa cum laude in 2010 with a dual bachelor's degree in Graphic Design and Photography with a minor in Commercial Photography. Upon graduation from the Honors College in 2010, Melissa began her career as a Designer and Photographer in Fresno, California.
Melissa worked with various creative agencies to build a foundation for her career before securing a leadership position with a small agency with a focus on non-profits, NGOs and the education sector. She had the opportunity to work closely on two nationally recognized campaigns: Fresno First Steps Home and Learn2Earn which were recognized by Shaun Donovan of the United States Department of Housing & Urban Development as well as President Barack Obama. During her time in Fresno, Melissa also acted as the official photographer for Mayor Ashley Swearengin.
At the end of 2012, Melissa returned to Ohio to be closer to family. She pursued freelance opportunities including booking for music and design festival, Weapons of Mass Creation.
Melissa continues to pursue fine art photography and regularly exhibits in the region. She is currently represented on the West Coast by Hide & Seek Gallery. Her work consists of manipulated portraiture and urban landscape photography.
Melissa is currently serving as Chair of the Board for the Akron chapter of the American Advertising Federation (AAF-Akron), an organization she has maintained membership with since she was a student.
Melissa lives in Akron with her husband and their cat Novella.
---