Robert Huff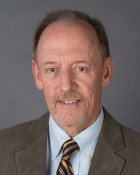 Title: Professor Emeritus
Dept/Program: 3D
Office: Folk Hall192A
Email: rjhuff@uakron.edu

---
Biography
Professor Robert Huff is an alumni of the University of Akron, receiving his BFA degree in 1977. He completed graduate studies at Ohio State University in 1980 earning an MFA with a concentration in Sculpture. He began teaching in the Myers School of Art that same year.
From 1981 through 2000 Robert taught all levels and media in sculpture and coordinated the Sculpture studio area. Following this he served as the Foundation Division Chair and focused his teaching on Foundation Three Dimensional Design.
In 1982 his work as an artist and teacher was recognized by his colleagues when he was selected as the outstanding faculty member in the school of art. In 2002 this honor was repeated when he was selected as the Outstanding Full Time Faculty Member by the students of the Myers School of Art.
Robert's work in sculpture includes objects, temporary mixed media installations and permanent public art projects. A special area of interest is in sculpture installations in the environment that incorporate live plant material and manifestations of change over time. His work has been exhibited nationally and in many regional institutions such as the Cleveland Museum of Art, Spaces, The Akron Art Museum and the Canton Art Institute.
He has served the university as a member of the Campus Facilities Planning Committee, as representative to the Ohio Faculty Council and as the Secretary of the Executive Committee of the Faculty Senate prior to becoming the Interim Director of the Myers School of Art in 2011. He has served as Director of the school since 2012.
---
Education
M.F.A. The Ohio State University, B.F.A. The University of Akron
---