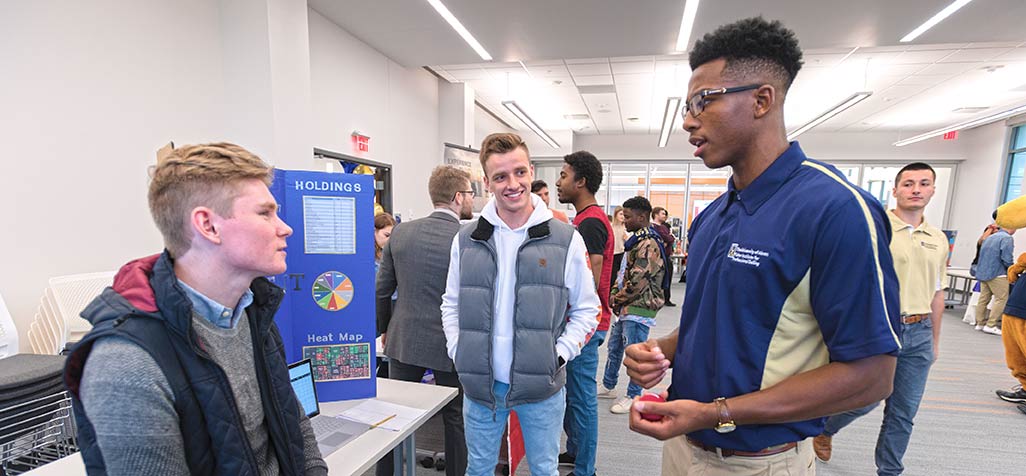 Growing Business Communication Skills at the College of Business Administration
Your words matter.
Every survey of business professionals places communication at the top of the most important skills a person needs in business. To help College of Business Administration (CBA) students develop and hone this important skill, the CBA has staff to offer
One-on-one appointments for UA students (select Business Communications from the Select Appointment Locator dropdown list) and Betsy DuWaldt as "Advisor". Meetings are in CBA 423.
Business Communication Workshops
Online resources
Online documents
Online tutorials
A Your Words Matter designation program for students to create polished e-portfolios to share with potential employers
Online Student Resources
Each semester, current CBA students have access to a Communication Resources site on the internal Springboard platform for easier access to numerous communication resources.
Some of the materials developed for students include:
How to Create Effective Explanations
How to Avoid Plagiarism
Write Emails the Right Way
It's All Greek to Me
Ingredients for Great Presentations
Developing Your Resume
Developing an Effective Cover Letter
How to Interview
---
Examples of Previous Events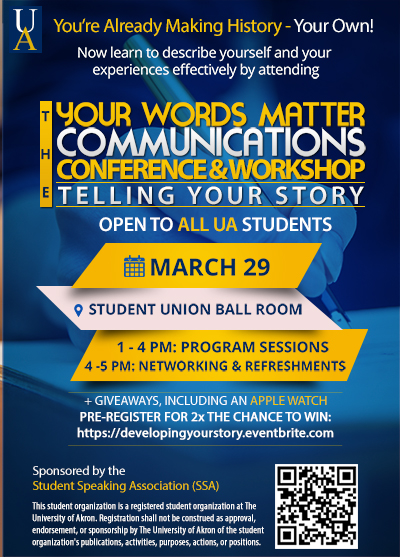 March 29 Your Words Matter Business Communications Conference and Workshop: Telling Your Story
Apple Watch Giveaway!
Workshop to help you talk about yourself and your experiences
Apple Watch and Other Giveaways! Open to all UA Students The ability to talk about one's experiences and skills in a meaningful way helps a person during networking, community volunteering, and in the hiring process. While students attending The University of Akron are hardworking and professionally prepared when they enter their career fields full-time, it's often difficult for students to be comfortable talking about themselves. That's why the UA student organization, the Student Speaking Association (SSA) (formerly Student Toastmasters) is holding the Your Words Matter Business Communications Conference and Workshop: Telling Your Story on March 29 in the Student Union Ballroom. During this afternoon session (1-4pm; 4-5 networking and refreshments), students will hear some discussions of how to authentically talk about experiences and abilities gained, learn from a panel of speakers, and, lastly, reflect on their own experiences. Bring a friend! Register now! https://developingyourstory.eventbrite.com. Pre-registration enters your name TWICE in the drawing!
12:30-1:00pm Registration
1-1:10pm Welcome and Laying the Foundation for the Day, Betsy DuWaldt, Business Practitioner, Communications, College of Business Administration
1:10-1:30 How to Tell Your Story: Thinking About Your Experiences (All) Includes Building Your Story Tony Alexander, College of Business Administration Executive-in-Residence, Business Communications
1:35-2:00 How to Engage: What Really Matters to My Audience? Panel Panelists include: Tony Alexander, College of Business Administration Executive-in-Residence, Business Communications; Iris Cumberbatch, VP and Head of Public Affairs, Federal Reserve Bank of Cleveland; Courtney Gras, Co-Founder & COO Design Flux Technologies, LLC, and named to the 2016 Forbes 30 Under 30 List; Andy Platt, Executive-in-Residence, College of Business Administration, The J.M. Smucker Company
2:00-2:15 Creativity and Visual Communications, Lisa Miller, Communications Lead, FirstEnergy
2:15-2:45 Postering Session (All Students)
2:45-3:30 Poster Judging
3:45 Closing remarks, Apple Watch Giveaway
4-5 pm Networking and Refreshments
---