Dr. Hazel Barton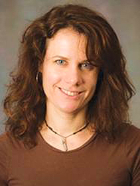 Title: Professor, Associate Dean
Dept/Program: Biology
Office: ASEC West Tower 178
Phone: 330-972-2518
Fax: 330-972-6077
Email: bartonh@uakron.edu

---
Biography
Dr. Barton is the Associate Dean for Research and Graduate Studies in the Buchtel School of Arts and Sciences and a Professor of Biology and Geoscience at the university of Akron. Her research is geared toward understanding microbial interactions and processes in cave environments and has published over 100 articles on this work and has co-edited two books: Women in Microbiology, and Lechuguilla Cave: Discoveries in a Hidden Splendor. Dr. Barton's work has been funded by the US National Science Foundation (NSF), US National Institutes of Health, the Defense Advanced Research Projects Agency, and the US National Park Service. Her work has been featured in Vice, Sports Illustrated, Forbes, National Geographic Explorer, Outside, Science News, The Scientist, Popular Mechanics, Wired, Geo and The Smithsonian magazines, on NPR and BBC Radio, on Animal Planet, the History Channel, National Geographic, the CBS Early Show, BBC TV and in the IMAX movie Journey into Amazing Caves. Dr. Barton is also an avid caver, having explored caves on six continents, previously served as Chair of the Board of the National Cave and Karst Research Institute, is currently the Education Coordinator for the National Speleological Society (NSS) Vertical Training Commission, and an award-winning cave cartographer. She is also a Fellow of the NSS, a Kavli Fellow of the US National Academy of Science, and past Chair of the Committee on the Status of Women in Microbiology for the American Society for Microbiology. Dr. Barton is the recipient of a National Science Foundation CAREER Award, the NSS Science Award, the Alice C. Evans Award for the advancement of women in science, and is a Fellow of the American Academy of Microbiology.
---
Publications
Breley, G.J., Jennings, M.E., Gisser, K., Drabik, A., Kainrad, J. and Barton, H.A. 2022. Techniques for quantifying bacterially induced carbonate mineralization in Escherichia coli. Geomicrobiology Journal (In Press)
Auler, A.A., Barton, H.A., Zambelli, B., Senko, J.M., Parker, C.W., Sasowsky, I.D., Souza, T., Pujoni, D., Peñaranda, R. and Davis, R. 2021. Silica and iron mobilization, cave development and landscape evolution in iron formations. Geomorphology 398:108068.
Calapa, K.A., Mulford, M.K, Rieman, T.D., Senko, J.M., Auler, A.S., Parker, C.W., and Barton, H.A. 2021. Hydrologic alteration and enhanced microbial reductive dissolution of Fe(III) (hydr)oxides under flow conditions in Fe(III)-rich rocks: contribution to cave-forming processes. Frontiers in Microbiology 12:1932.
Tantisuwanno, C., Dang, F., Bender, K., Spencer, J., Jennings, M., Barton, H.A. and Joy, A. 2021. Synergism Between Rifampicin and Cationic Polyurethanes Overcomes Intrinsic Resistance of E. coli. Biomacromolecules 22(7):2910-2920
Vishwakarma, A., Dang, F., Ferrell, A., Barton, H.A. and Joy, A. 2021. Peptidomimetic polyurethanes inhibit bacterial biofilm formation and disrupt surface established biofilms. Journal American Chemical Society 143(25):9440-9449
Wengert, P.C., Wong, N.H., Barton, H.A., Gan, H.M., Hudson, A.O. and Savka, M.A. 2021. Genomic characterization of bacteria from the ultra-oligotrophic Madison aquifer: Insight into the archetypical LuxI / LuxR and identification of novel LuxR solos. BMC Research Notes 14:175
Nayfach S et al. (member of scientific consortium). 2020. A Genomic Catalog of Earth's Microbiomes. Nature Biotechnology. doi: 10.1038/s41587-020-0718-6.
Hagan, A.K., Topçuoglu, B.D., Gregory, M., Barton, H.A. and Schloss, P.D. 2020. Women are underrepresented and receive differential outcomes at ASM Journals: A six year retrospective analysis. mBio 11(6): e01680-20
Engelhardt, S., Bender, K., Vogel, J., Moore, F., Durik, S.E. and Barton, H.A. 2020. Urine Volume Reduction during Long-Duration Cave Exploration by a Light-weight and Portable Forward Osmosis System. International Journal of Speleology 49(3):229-234.
Bender, K.E., Glover, K.E., Archey, A.K. and Barton, H.A. 2020. The impact of sample processing and media on the culturable diversity of bacteria from cave environments. International Journal of Speleology 49(3):209-220.
Nyarko, A., Singla, S., Barton, H.A., Dhinojwala, A. 2020. Spectroscopic confirmation of a proteinaceous component to the Caulobacter crescentus holdfast. ACS Biochemistry 59(37):3508-16.
Barton, H.A. 2020. Safe and effective disinfection of showcave infrastructure in a time of COVID-19. International Journal of Speleology 49(2):137-147
Moseley, G.E., Barton, H.A., Spötl, C., Töchterle, P., Bjerken, S.E., Blakeley, C., Hodkinson, P.D., Shone, R.C., Smith, M.P. and Wright,M. 2020. Cave discoveries and speleogenetic features in northeast Greenland. Cave and Karst Science 47(2):74-87
Barton, H.A., Breley, G.J., Töchterle, P. and Moseley, G.E. 2020. Cryogenic features of the permafrost ice caves of Grottedal, northeast Greenland. Cave and Karst Science 42(2):93-99
Barton, H.A., Breley, G.J. and Smith, P.M. 2020. Microbiological observations in the caves of Grottedal, Kronprins Christian Land, northeastern Greenland. Cave and Karst Science 47(2):88-92
Beam, J.P., Becraft, E.D., Brown, J.M., Schulz, F., Jarett, J.K., Bezuidt, O., Poulton, N.J., Clark, K., Dunfield, P.F., Ravin, N.V., Spear, J.R., Hedlund, B.P., Kormas, K.A., Sievert, S.M., Elshahed, M.S., Barton, H.A., Stott, M.B., Eisen, J.A., Moser, D.P., Onstot, T.C., Woyke, T., Stepanauskas, R. 2020. Ancestral absence of electron transport chains in Patescibacteria and DPANN. Frontiers in Microbiology 11:1848.
Becker, M.L., Nikam, S.P., Nettleton, K., Everitt, J.I. and Barton, H.A. 2020. Antibiotic eluting poly(ester urea) films for control of a model cardiac implantable electronic device infection. Acta Biomaterialia 111:65-79.
Reviews
Barton, H.A.; Spear, J.R.; Pace, N.R. (2001), "Microbial life in the underworld: Biogenicity in secondary mineral formations", Geomicrobiology Journal 18 (3): 359–368,doi:10.1080/01490450152467840, retrieved 2009-04-10
Barton, H.A. (2006), "Introduction to cave microbiology: a review for the non-specialist", Journal of Cave and Karst Studies 68 (2): 43–54, retrieved 2009-04-10
Barton, H.A.; Northup, D.E. (2007), "Geomicrobiology in cave environments: past, current and future perspectives", Journal of Cave and Karst Studies 69 (1): 163–178, retrieved 2009-04-10
Barton, H.A.; Jurado, V. (2007), "What's Up Down There? Microbial Diversity in Caves", Microbe-American Society for Microbiology 2 (3): 132, retrieved 2009-04-10
Barton, H.A., 2013, Biospeleogenesis (Invited book chapter). In: Treatise on Geomorphology, Shroder, J.F. ed. (Academic Press: San Diego). Volume 6, p. 39-55
Reynolds, H.T. and Barton, H.A. 2014. White-nose Syndrome: Human activity in the emergence of an extripating mycosis. (Invited book chapter). In: One Health Initiative, ASM Press.
Barton, H.A. 2015. Starving artists: Bacterial oligotrophic heterotrophy in caves. In Life in Extreme Environments: Microbial Life of Cave Systems, Ed A. Engel. Walter de Gruyter, New York, NY. p. 350
---