Dr. Nita Sahai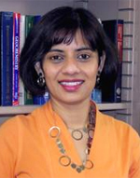 Title: Professor and Ohio Research Scholar
Dept/Program: School of Polymer Science and Polymer Engineering
Office: GDYR 636
Phone: 330-972-5795
Fax: 330-972-5290
Email: sahai@uakron.edu
Website: https://biomin.uakron.edu/

---
Biography
Prof. Nita Sahai has been at the University of Akron since August 2011. Prior to this, she was a full Professor in the Department of Geoscience, University of Wisconsin-Madison for 11 years. She earned her Ph.D. at Johns Hopkins University, Baltimore.
---
Research
Biomolecular and cellular (human and bacterial cells) interactions with biomaterials and minerals; interfacial chemistry; bone-tissue engineering; organic-mediated crystal nucleation and growth (biomineralization); origin and early evolution of life; relationship between molecular-level, nanoscale & macroscopic properties. For more information see the research group website.
Publications
Google Scholar | ResearchGate | Ohio Innovation Exchange
Dalai P. and Sahai N.* (2020) A model photoheterotrophic protometabolism across protocell membranes promoted by photocatalytic minerals. J. Phys. Chem. C. 124, 1469-1477.
Hochella M. F., Jr.*, Mogk D. W., Ranville J., Allen I. C., Luther G. W., Marr L. C., McGrail P., Murayama M., Qafoku N. P., Rosso K. M., Sahai N., Schroeder P. A., Vikesland P., Westerhoff P. and Yang Y. (2019) Emerging understanding of anthropogenic and natural nanoparticle impacts on Earth systems. Science 363, eaau8299. Review paper, INVITED.
Dalai P., Ustriyana P. and Sahai N.* (2018) Aqueous magnesium as an environmental selection pressure in the evolution of phospholipid membranes on early Earth. Geochim. Cosmochim. Acta. 223 216-228.
Kaddour H., Gerisioglu S., Dalai P. Miyoshi T., Wesdemiotis C. and Sahai N.* (2018) Non-enzymatic polymerization at the mineral-water interface: An insight into adsorption-polymerization relationships and the effects of magnesium. J. Phys. Chem. C. 122, 29386-29397.
Sahai N.*, Kaddour H., Dalai P., Wang Z., Bass G. and Gao M. (2017) Mineral surface chemistry and nanoparticle-aggregation control membrane self-assembly. Sci. Rep. 7, 43418. doi: 10.1038/srep43418.
Ustriyana P., Michel F. M., Wilson M. C., Harmon E., Chen J., Liu T. and Sahai N.* (2020) Oligo(L-glutamic acids) in calcium phosphate precipitation: Mechanism of delayed phase transformation. J. Phys. Chem. B.J. Phys. Chem. B. 124, 6288-6298.
Wang Z., Ustriyana P., Chen K., Zhao W., Xu Z. and Sahai N.* (2020) Towards the understanding of small protein- mediated collagen intrafibrillar mineralization. ACS Biomat. Sci. Eng.
Chen K., Ustriyana P., Moore F. and Sahai N.* (2019) Biological response of and blood plasma protein adsorption on Silver-doped hydroxyapatite. ACS Biomat. Sci. Engg. 5, 561-571.
Zhao W., Wang Z., Xu Z. and Sahai N.* (2018) Free energy calculation reveals osteocalcin-promoted calcium phosphate nano-cluster growth. Phys. Chem. Chem. Phys. 20, 13047- 13056.
Zhou X., Zhang N. and Sahai N.* (2017) Silicate materials for orthopaedics and bone tissue engineering. J. Biomed. Mater. Res. Part A 105, 2090-2102.
---
Education
1997 - Ph. D., Johns Hopkins University, Baltimore, MD. Advisor: Prof. Dimitri Sverjensky. Solvation and Electrostatic Model for Specific Electrolyte Adsorption.
1992 - M. S., Geochemistry, University of Rochester, Rochester, NY. Calibrating the Cosmogenic 21Ne Clock.
1990 - B.Sc., 1st rank in graduating class,Geology Honors, St. Xavier's College, Bombay University, India.
---