Admissions and how to apply
The community of scholars at The University of Akron welcomes you and invites you to study at the region's most influential public research university. Here you will gain valuable knowledge and practical training that will help open doors to the career you really want.
---
Before you apply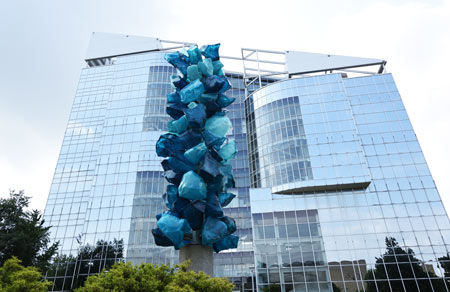 Our School of Polymer Science and Polymer Engineering is one of the biggest and best-known research and academic programs in the world devoted to the study of polymers.
Deadlines
Domestic applicants should apply six weeks before intended date of enrollment
International applicants should apply six months before intended date of enrollment
Some academic department have internal deadlines which need to be followed. We recommend applicants contact the academic department for additional deadline information.
Late applications
The Graduate School will process applications received after the suggested deadlines, however, cannot guarantee admission consideration for the intended date of enrollment.
For applicants not seeking a degree
We welcome applicants seeking non-degree admission. You should follow the same application process as those seeking a degree. Proof of an earned baccalaureate degree is required.
The Graduate School requires that all students applying for non-degree admission provide proof that s/he holds the equivalent to a U.S. baccalaureate degree. Non-degree applicants may provide such proof in the form of a transcript reflecting baccalaureate degree conferral or a copy of the diploma. Letters of recommendation, statement of purpose, resume, etc. are not required under this admission type.
Non-degree admits are ineligible for assistantships and financial aid.
Admission validity
Graduate admission is valid for one year from the term reflected in the letter of admission. Applicants may defer admission to a later semester within the one-year timeframe unless otherwise specified in the admission letter. The offer of admission is null and void should the applicant not register within one year.
Eligibility
Are you eligible to apply to graduate studies?
What's required:
1. Bachelor's degree: A minimum of a four-year U.S. bachelor's degree or international equivalent from an accredited institution.
2. Grades: Minimum 2.75 GPA, based on a 4-point scale
3. Additional program requirements: Please refer to the academic department for information regarding admissions requirements for specific academic programs. All of these various scores must be official scores; no photocopies.
4. Qualifying examinations: GRE and GMAT scores (must have been taken within five years).
Qualifying examinations
Applicants for admission are advised that their scores on the GRE constitute a desirable credential to submit in applying for admission and may be required for admission to certain programs. Official scores must be received before the application can be considered.
Official score reports are required. Photocopies will not be accepted. Under no circumstances will we accept GRE/GMAT scores that are more than five years old.
The University of Akron Institution Codes:
Graduate School: 1829
CSDCAS: 1722
Arrangements to take the GRE may be made through the Educational Testing Service. GMAT information is available at www.mba.com.
5. Transcripts: Submit official transcripts by mail from all previous institutions. International students have additional transcript requirements.
What is an official transcript? An official transcript is a university's certified statement of your academic record. The official paper transcript is printed on security sensitive paper and contains the university seal and signature of the University Registrar. The official electronic transcript is a PDF secured by a digital certificate from an approved transcript service provider. Personal copies of academic records will be considered unofficial. These copies may be submitted, pending receipt of the official transcript. If the final transcript does not reflect the degree earned (including the date awarded), certification must be provided in the form of a diploma or a letter from the Registrar certifying this information.
Domestic transcripts — The Graduate School requires an official transcript from each institution that you have attended or are currently attending. Applicants are required to submit all undergraduate, graduate, and professional academic records.
Official transcripts should be confidential and provided in a sealed envelope by the respective university/college Registrar. Official electronic transcripts from an approved transcript service provider will be accepted. Approved Third-Party Transcript Service Providers: National Student Clearing House, Parchment Exchange, and RapidRequest.
Current UA student applicants are not required to provide official transcripts from The University of Akron.
International transcripts and degrees — An official transcript (mark sheets/academic record) and degrees (diplomas) from all institutions that you have attended or are currently attending must be received by the Graduate School. Transcripts should provide a year-by-year listing of all courses taken and the grades earned. Original academic records in languages other than English must be accompanied by an exact English translation and certified by the school, U.S. embassy/consulate, or other legal certifying authority. Transcripts should be confidential and provided in a sealed envelope by the responsible university/college officer.
Official transcripts of all college level work completed outside of the U.S. may be sent to a credential evaluation service for evaluation. The transcript evaluation must be a course-by-course evaluation that identifies and describes each diploma or certificate with periods of education and equivalency of each document.
Preferred evaluation service: World Education Services (WES).
6. Letters of Recommendation are not required of all applicants. Please ask your academic department about letter-of-recommendation requirements for your academic program.
7. English language proficiency (TOEFL/IETLS) for students whose native language is not English
About TOEFL and IELTS
International applicants, U.S. citizens, and Permanent Residents whose native language is not English must submit evidence that they have a sufficient level of English to undertake graduate studies at The University of Akron.
TOEFL or IELTS scores can be no more than two years old.
Graduate School code: 1829
After submitting acceptable academic credentials and proof of English proficiency, applicants who are fully admitted may enroll in graduate coursework and may be eligible for University of Akron-funded assistantships, fellowships, or scholarships.
Prospective teaching assistants must also achieve a minimum score of 23 on the Speaking Section of the internet-based TOEFL, or a minimum score of 7 on the Speaking Section of the IELTS, or a passing score on the U-ADEPT.
For more information on English proficiency requirements and TOEFL/IELTS score requirements, please review the English Language Proficiency Requirements.
8. Additional program-specific requirements and deadlines: Many graduate programs have additional requirements and deadlines. Search for your degree to learn more.
How to apply
Rising to greater heights begins by submitting your admission application to The University of Akron's Graduate School. Whether interested in master's, doctoral, or certificate programs our community of graduate faculty, staff, and scholarly students will help you feel connected and supported in this thriving academic environment. To apply, please follow the instructions below:
1. Create your application portal account (Remember to check your spam/junk email folder for your account password confirmation email).
2. An applicant may submit multiple electronic applications to be considered for more than one area of study. In these instances, a separate electronic application will be required for each concentration.
Applicants who have not been enrolled for a 12-month period must reapply to The University of Akron Graduate School. You will need to complete a new online application. You will not be able to use your first-time application as a reapplication.
3. While students can upload unofficial transcripts, recommendation letters, a statement of purpose, resume, etc. through the online application, official transcripts and test scores must be sent electronically to or mailed directly to:
| | | |
| --- | --- | --- |
| Spring 2024 Applicants | | Fall and Summer 2024 Applicants |
| gradsch@uakron.edu | | admissions@uakron.edu |
| | | |
| The University of Akron | | The University of Akron |
| Graduate School | | Office of Admissions |
| Leigh Hall 515 | | Simmons Hall 109 |
| Akron, OH 44325-2101 | | Akron, OH 44325-2001 |
If you have corrections to the information you have submitted on your graduate application (particularly your email address), please contact the Office of Admissions at admissions@uakron.edu
4. International student, please direct questions about immigration to our International Center at immigration@uakron.edu
Thank you for choosing The University of Akron to pursue your academic endeavors!
QUESTIONS?
Contact:
Ms. Deborah Phillipp
Director, Graduate Admissions and Student Services
330-972-2135
dphillipp@uakron.edu