Dr. Martha Santos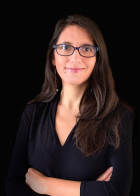 ---
Biography
Martha S. Santos is a specialist in Latin American history, and her research interests include women's and gender history, cultures of violence, state formation, slavery and emancipation, African diaspora, and race relations in post-colonial Brazil, particularly during the Imperial period. She is author of Cleansing Honor with Blood: Masculinity, Violence, and Power in the Backlands of Northeast Brazil, 1845-1889 (Stanford University Press, 2012). She has published several articles focusing on enslaved motherhood and childhood and on the questions of labor and the reproduction of slavery in the hinterlands of Ceará during the nineteenth century. Professor Santos has been invited to be a visiting scholar at the Institut des hautes études de l'Amérique latine IHEAL (Institute of Latin American Studies) at the Sorbonne University in Paris, a post she hopes to fulfill in the fall of 2021. She held the Santander Fellowship from the David Rockefeller Center for Latin American Studies at Harvard University (2013-14) and her research has also been funded by the National Endowment for the Humanities and the Harry Frank Guggenheim Foundation.
Professor Santos enjoys teaching courses on the history of women, gender and sexuality in Latin America, colonial and modern Latin America, the histories of slavery and race relations in Brazil, the history of Caribbean popular music and dance, and Humanities in the World since 1300. She serves as Director of Graduate Studies in History and of the Certificate Program in Latin American Studies.
A devoted salsa dancer and performer, Dr. Santos has several years of experience performing traditional West African dances as well. Her love for salsa and for African-based dances has translated into the development of an experiential learning and interdisciplinary methodology that includes perspectives from social history, dance history, music history and dance to teach the history of salsa music and dance in the Caribbean and in New York City. A recent documentary on her "Salsa: History in Motion" class is available here.
---
Education
Ph.D. - University of Arizona
---