A TRADITION OF COMMUNITY
The Williams Honors College
BE INSPIRED by your professors and by your high-achieving classmates, who come from a variety of backgrounds and possess broad academic interests and achievements, inside the special intellectual community that is UA's Williams Honors College.
Begin applying for Fall 2022
Priority Application deadline and presitigous scholarship consideration is January 4, 2022
Benefits for UA Honors students
Just a few of the many benefits to being in the Williams Honors College:
Live in the Honors Complex with private bathrooms
Sense of community eases transition into college
Academic advantages like priority scheduling
Honors Merit Scholarships of $1,000 and $1,500
Unique opportunities like study abroad and honors seminars
Honors events
Visit our modern, park-like campus though one of our Admissions events. In-person and virtual options available most days!
Ready to join the college?
Are you ready to accept your Williams Honors College seat for this fall?
WHC 2021 Awards of Distinction
Given yearly to the top ten spring graduates, based on academic performance, campus involvement and community engagement.
Walid A. Abuhashim (Biomedical Engineering)
Kevin A. Feezel (Political Science)
Emma Griffith (Psychology)
Christopher J. Ha (Psychology)*
Emma L. Harmon (Chemistry)
Emily N. Janikowski (Social Work)
Haley R. McElroy (Political Science)
Jade G. Reese (Mechanical Engineering)
Jason M. Render Jr. (Political Science)
Brandon A. Tyson (Music Education)
*Christopher J. Ha also received the 2021 Hunter Award for extraordinary leadership, commitment and involvement in organizations and activities that serve and improve the lives of humankind.
PEEK INSIDE THE COLLEGE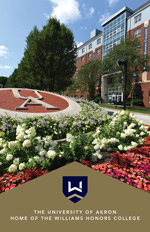 We've created this booklet to describe the special opportunities available to UA honors students, including academic capstone work, scholarships, research, study abroad, leadership development and more.
CCP Honors Academy
The College Credit Plus Honors Academy is for high school juniors and seniors to get an even bigger head start to their college careers.
The College Credit Plus program was created by the Ohio Legislature to allow students in grades 7-12 to enroll in a college or university to earn both college credit and credit for their classes, tuition free.
Honors news
UA's Sesquicentennial Celebration