Honors Student, Courtney Gras, Receives Multiple Awards/Honors
08/03/2010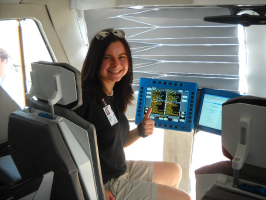 Society of Women Engineers (SWE) Goldman Sachs Scholarship Recipient
Courtney A. Gras received the Society of Women Engineers (SWE) Goldman Sachs Scholarship. She attended the SWE conference in Long Beach, CA in October. Gras was one of several students who earned SWE scholarships but she was the only student who also received the Goldman Sachs scholarship. Goldman Sachs' program, entitled "10,000 Women," assists women in attaining their career goals.
Boeing Engineering Scholarship Recipient
Gras also received the Boeing Engineering Scholarship through the Golden Key International Honour Society for the second consecutive year.
Akron Council of Engineering and Scientific Studies (ACESS) Scholarship Recipient
Gras also received this year's undergraduate Akron Council of Engineering and Scientific Studies (ACESS) scholarship for the University of Akron and she was honored at the ACCESS banquet in November 2009.
Electrical Computer Advisory Council (ECE) Scholarship Recipient
Gras earned the Electrical Computer Advisory Council (ECE) Scholarship in the spring of 2009.
Choose Ohio First STEM Scholarship Recipient
Furthermore, Gras was the recipient of the Choose Ohio First STEM (Science, Technology, Engineering, Math) scholarship at The University of Akron through the Honors College.
IEEE Paper Contest Winner
On March 18, 2010, Courtney Gras, a junior majoring in Electrical Engineering, was awarded First Place in the Akron/Canton Region 2 Institute of Electrical and Electronics Engineers (IEEE) Paper Contest. Her technical paper entitled "Battery Management for a Lunar Rover" was presented to IEEE representatives and to University of Akron faculty and students. As a result of her award, in April of 2010, Courtney had the opportunity to represent the Akron IEEE and the University of Akron at the IEEE Region 2 Student Activities Conference (SAC) at Temple University's College of Engineering in Philadelphia, Pennsylvania.
Courtney Gras smiles proudly as she stands by Akron/Canton IEEE Chair Mr. Dennis Ledel, P.E with her first place prize check.
Courtney Gras with other COE contestants, IEEE Chair, Dennis Ledel, P.E., IEEE Publication Chairman, Richard Buchanan, P.E., and University of Akron team adviser Dr. Tom Hartley.
Launch Town Regional Business Idea Competition Finalist
Tom Vo, a graduate student in Electrical Engineering, and honors student, Courtney Gras, entered the Launch Town Regional Business Idea Competition. They were selected as one of four teams to give presentations at the Martin Center, in competition for a $25,000 prize. On April 19th, 2010 Vo and Gras presented their work and proudly represented The University of Akron in this competition.
Courtney Gras and Tom Vo, Masters student in Electrical Engineering, smile for a quick picture after their presentation at the Launchtown Business Idea Competition.
UA Battery Management Team Wins 2nd Place in NASA Moon Work Competition, (2009) and 3rd Place (2010). Receives Internship as prize
The NASA Moon Tasks collegiate competition requires entrants to design a system for the next manned lunar rover. Submission is in the form of a technical report which is judged by NASA engineers whose evaluation is based on criteria including inventiveness, feasibility, baseline comparison with relevant technology, and review of the literature.
Dr. Tom Hartley, a University of Akron professor of Electrical and Computer Engineering, guided Honors students Courtney Gras and Ben Magistro last year, in their submittal of an entry to this contest entitled, "Battery Management for a Lunar Rover." The entry was selected as one of three top papers. The top three teams were flown to Flagstaff, Arizona, to present their work in front of NASA lunar rover engineers at the NASA D-RATS facility.
Courtney Gras and her teammate, Ben Magistro, smile as they accept their Moon Work Competition 2nd place award from NASA DRATs site director, Joe Kosmo.
The Desert RATS is a NASA-led team of research partners who collaborate on human-robotic exploration. This working group, led by NASA personnel, is comprised of both NASA and non-NASA employees. The Desert RATS field test is the culmination of various individual areas' development efforts in a coordinated demonstration under representative (analog) planetary surface terrain conditions. The purpose of the RATS project is to promote the development of preliminary concepts for extravehicular activity (EVA) systems by providing hands-on experience with simulated planetary surface exploration, hardware and procedures.
The RATS activities also are of great importance in helping to develop the necessary levels of technical skills and experience for the next generation of engineers, scientists, technicians, and astronauts.
Out of the three teams, Akron's came in second place, just behind the first place team consisted of 28 seniors from the University of Maryland. (Dr. Alex De Abreu Garcia, the department chair of Electrical and Computer Engineer at the University of Akron, attended the event with the UA team).
Ben Magistro and Courtney Gras stand in front of the ATHLETE - a 6-legged robot designed for transporting modules on the moon.
In addition to the presentation at D-RATS, the UA Honors students also had the opportunity to tour the test site and speak with NASA engineers currently working on the development of the next-generation manned lunar explorer. The team was also given a tour of the Meteor Crater, Lowell Observatory, US Geological Survey, and the Grand Canyon.
This year, Courtney Gras and team member Tom Vo entered the competition again, with a paper entitled "Robotic Platform for In-situ Resource Utilization (ISRU) with Active Battery Management and Lunar Nocturnal Operation Capability."
NASA JSC/DRATS INTENRSHIP From Moon Work Competition
As part of the Moon Work Competition for 2010, students had the opportunity to apply for NASA internships related to Lunar Surface Systems. Courtney was one of 4 students selected for an internship at NASA Johnson Space Center in Houston, TX. After spending a month in Houston working with NASA's Lunar Surface Systems under the Constallation program in the Mission Management Team, she will travel out to NASA's D-RATs facilities for a month of field-testing equipment and technology intended for the next Lunar base.
At her internship at Johnson Space Center, Courtney Gras was standing in the "rock yard" where dry-run field testing of the Lunar Electric Rover and other Surface Operations were taking place.
Courtney Gras is excited to sit in one of the pilot seats inside the Lunar Electric Rover. As part of her internship responsibilities, she had the opportunity to ride in the Rover for test runs.
NASA Lunabotics Lunar Robotic Mining Team Earns 5th Place Honorable Mention Award
In the NASA Lunabotics Mining Competition, after several heroic days of fixing their internet-based communications and controls, the University of Akron NASA Lunabotic Lunar Robotic Mining team was one of only six teams that were able to load lunar regolilth into the meter high bin with their teleoperated robot miner. The UA team received the 5th Place Honorable Mention award.
Also while at the competition, the team saw the Space Shuttle Atlantis land from the runway bleachers, observed a Delta rocket launch at night, ate dinner under the Apollo 18 vehicle, spoke with several astronauts, talked with the driver of the Mars rovers along with other NASA engineers, interacted with the Kennedy Space Center Director, and talked with the Assistant and Associate NASA Directors from Washington. Overall, the team had an amazing experience.
Twenty-two of the twenty-nine registered schools attended the competition. Montana State ended up earning the First Place award. The following schools attended the NASA Lunabotics Mining Competition:
Akron, University of
Alabama, University of
Arkansas, University of
Auburn University / Tuskegee University (HBCU)
Bridgeport, Connecticut, University of
Carnegie Mellon University / Hampton Univ. (HBCU)
Colorado School of Mines
Embry Riddle Aeronautical University, Daytona Beach, Florida
Florida Institute of Technology
Florida State University / Florida A & M University (HBCU)
Iowa State University
John Brown University
Milwaukee School of Engineering, WI
Montana State University
North Carolina-Charlotte, University of
North Dakota School of Engineering & Mines, University of
Prairie View A & M University
South Dakota School of Mines and Technology
Southern Indiana, University of
Temple University, PA
Virginia Tech
Western Kentucky University
The University of Akron team stands by the Rocket Yard at Kennedy Space Center. The students from left to right are: John Quayle-Zimmer, Courtney Gras, Ben Chaffee, Brian Haynes, Michael Quayle, Sriram Yarlagada, Dr. Tom Hartley (our advisor) and Tom Vo.
For more information on this competition, please visit the NASA Lunabotics Mining Competition website: http://www.nasa.gov/offices/education/centers/kennedy/technology/lunabotics.html.
Congratulations Courtney and team on proudly and successfully representing the University of Akron!