Student Groups
Interested in starting a student group in Williams Honors College? Take a look at this form, and return it to Debbie Gannon at dgannon@uakron.edu. Please note, this process is only for the Honors College. If you'd like your group to be formally recognized by UA, take a look at the Department of Student Life New Student Organization process.

Williams Honors College student groups include:
Non-Honors groups include:
---
DreamAkron
Founders: Daniel Crowder and Isabella Bartholomew
DreamAkron is based off of "College is Real" in Richmond, California and is a mentoring/tutoring program that is designed to help Kenmore High School students get to college, succeed in college, and later have careers in the Akron area.
A three-tier tutoring/mentoring program is used to create a "college culture" at Kenmore High School. Tutoring is available in all major subjects with emphasis on development of writing skills.
DreamAkron also works together with Akron Professionals (Torchbearers) and Honors College Students to create and take advantage of leadership opportunities in the Akron community and on campus.
Honors Club

The purpose of The Honors Club is to provide opportunities to form friendships, encourage a forum for group discussion of ideas and opinions, and to discuss opportunities to serve both the campus and community.
The Honors Club has regular activities every semester such as Akron RubberDucks game days, cookouts at local parks, participation in all-campus activities and much more. There are great opportunities to get involved, meet new people, see the area, or to take an active role and lead in the Honors Club.


Officers for 2013-2014:
President – A.J. Marino
Social Vice President-- Savannah Snyder
Service Vice President-- Janean Kazimir
Secretary-- Treasurer-- Iris Javersak
Historian--Lex Reis
---
Honors Delegates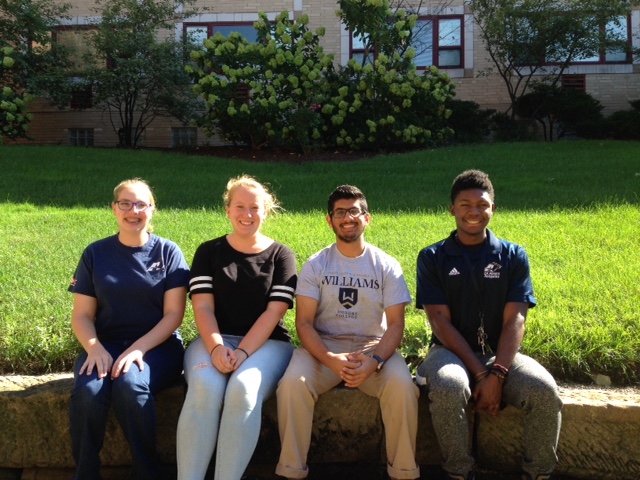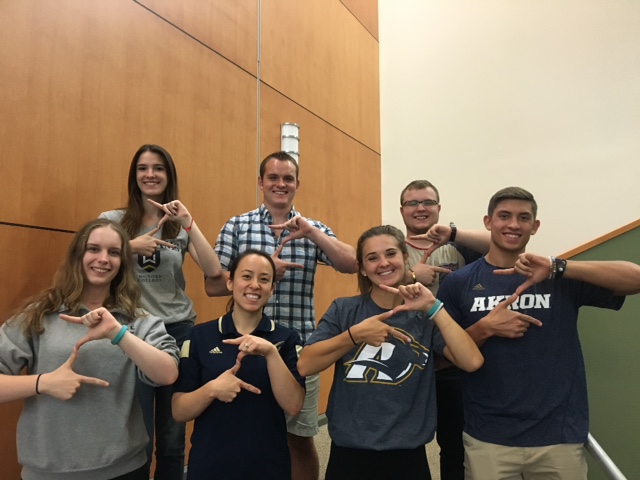 As official representatives of the Williams Honors College, Honors Delegates interact with visiting students and their parents, as well as visiting dignitaries, who have included government officials, authors and journalists. If you are an Honors College student and want to join the Delegates, contact Debbie Gannon, dgannon@uakron.edu.
Honors Delegates officers for 2017-2018
President - Greg Brown
Vice President - Travis Pero
---
Honors Business Group (HBG)
Any Honors student interested in business activities is welcome to join the Honors Business Group (HBG). Meetings are generally held every other week in the Honors Common Room and include pizza. Faculty from the College of Business Administration speak, alumni from UA share their real-life experiences or business leaders from the community tell about their strategies for success.
Honors Business Group officers for 2015-2016
Co-President – Matt Headland
Co-President – Michael Osborn
VP of Promotion – Alex Fitzpatrick
VP of Finance - Jordan Best


---
Honors Commuter Association
The Honors Commuter Association is a group formed in 2014 that is open to all commuter students in the Honors College. The Honors Commuter Association recognizes the commuter students' need for an enhanced collegiate experience through programs and services designed to provide students with information, resources, and opportunities unique to the Honors commuter population. HCA meets regularly throughout the fall and spring semester. If interested or for more information, contact the Honors Commuter Association Coordinator, Lauren Bosley.
Honors Commuter Association officers for 2015-2016
President – Julia Mallinak
Vice President – Dominic Musilli
Treasurer – Natalie Mallinak
---
Honors Relay Teams for the Akron Roadrunner Marathon
Continuing the tradition of past years, five-person teams from the Honors College are invited to register for the Akron Marathon. The Honors College and alumni sponsor Roger Read help to support five-person teams and two-person teams for the Akron Marathon. The marathon route goes through campus- right down Buchtel mall. All Honors College students are encouraged to support these teams during the marathon.
Honors Relay Team organizers for 2014-2015
Jason Green
---
EUREKA-Association for Honors Engineers
EUREKA encourages students interested in engineering to join. EUREKA hosts alumni, faculty, and industrial speakers in the Honors Common Room. For more information visit the EUREKA webpage.



EUREKA Officers for 2016-2017
President: Deboshri Sadhukhan
Treasurer: Nate Raymondi
Secretary: Julia Wood
Social Chair: Josh Humphrey
Electrical/Computer Engineering Chair: Josh Reed
Mechanical Engineering Chair: Kole Williams
Chemical/Corrosion Engineering Chair: Maddy Busch
Civil Engineering Chair: Chris Pack
Biomedical Engineering Chair: Sophia Chinchilla
---
Association of Honors Educators
This student group is open to all Honors students with an interest in education.


Association of Honors Educators Officers for 2016-2017
President: Rusty Fleming
Vice-President: Kay Kerezy
Treasurer: Taylor Zepp
Faculty Advisor, Dr. Ruth Oswald
---
Rhythm & 'Roos - Honors a cappella
Honors students interested in participating in a mixed SATB a cappella singing group are invited to complete the interest form at the Roos' main web page .
Rhythm & 'Roos Officers for 2016-2017
Director: Megan Calderone
President: Riley McMahon
Assistant Director: Jason Klinect
Public Relations Chair: Alex Gedon
Webmaster: Sarah Schwartzer
Treasurer: Kristyn Gawdyda
---
Kanga Blue
Women's a cappella, founded in 2010.


Kanga Blue Officers for 2016-2017
President: Jessica Dixon
Vice-president: Ellyn Delisle
Musical Director: Marissa Polatas
Assistant Musical Director: Brittnay Smith
Treasurer: Annie Meisner
Secretary: Olivia Clark
GROUP EMAIL: kangablueacappella@gmail.com
WEBSITE: www.kangablue.blogspot.com
---
Honors Book Club
Do you like to read? Join the Honors Book Club (HBC) to read and discuss a wide range of books from a variety of genres. The HBC meets once a month during each semester to discuss books chosen by group members. Attendance is welcome even if you have not completed the book.

Honors Book Club Officers for 2016-2017
President -
Zita Jasper
Officer: Julie Posinelli
Officer: Jennifer ShawOfficer: Calli BaumbergerWebsite:
Wordpress
and
Facebook
.
---
Honors Nursing Group (HNG)
Honors Nursing Group was founded in 2007-2008, especially for Honors students studying nursing, however, it is open to all Honors students. Meetings are generally held once a month in the Honors Common Room. Our group participates in service activities that have included blanket making for Akron Children's Hospital, canned food drives, card making for patients, Make a Difference Day, etc. Programming has included alumni speaking about their nursing experiences, and faculty from the College of Health Professions speaking about the programs in nursing.
Honors Nursing Group Officers for 2017-2018
President: Kelly Claridge
Vice President: Katie Burke
Secretary: Emily Pagni
Treasurer: Ashlyn Milhoan
Volunteer Chair: Rachel Smith
---
Multicultural Honors Society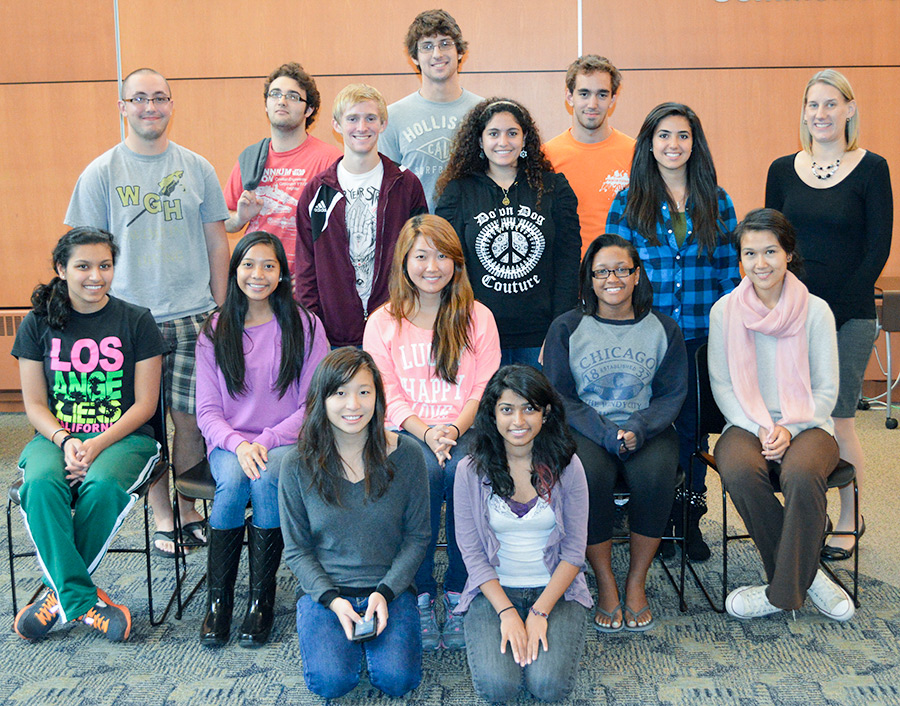 This group is interested in discussing and promoting diversity and multiculturalism. It is open to all Honors College students. Contact Honors advisor Erin Ahrens for more details.
Multicultural Honors Society Officers for 2015-2016
President: Prasanna Thota
Vice-President: Stuti Kapadia
Secretary: Tamara Drurin
Events Coordinator: Max Yoder
Treasurer: