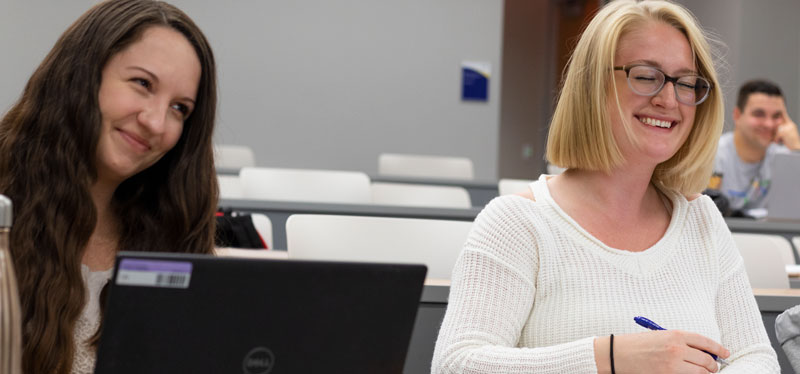 Part-time program
With a blended-online option, our part-time program is ideal for working professionals and those with family obligations
Benefits
Akron Law's part time program is designed for working professionals and those with family obligations, who bring unique life experiences to the classroom. While most part-time students complete the JD in four years, some part-time law students are able to pursue full-time careers while earning their J.D. in as little as three and a half years. Our part time students receive all the same benefits as full time students while maintaining their current careers or other obligations.
Akron Law's part-time program is ranked by U.S. News & World Report (2020) as the 37th best in the country, which is the highest rank among Ohio law schools.
Curriculum
The part-time curriculum is designed to be completed in four years, if students also take classes each summer. Some students are able to earn their degree in three and one half years, if they take additional classes in the summer and during winter breaks. Classes are held in the evenings to accommodate a part-time student's daytime commitments.
A part time load is 8 to 10 credit hours each fall and spring semester. And while the first-year curriculum within each track is standard, there are some adjustments that we may be able to make during the first year. Students can adjust much more freely after the second year once those core required courses are completed.
Blended online J.D. program
Part-time students can take advantage of our Blended Online J.D. program, which makes it possible to complete the first two years of the program with only two nights of in-person instruction per week. During these first two years, the remaining courses can be taken on your computer each week at a time that fits your schedule — in the morning before work, in the evening after work, or over the weekend.
Sample schedule
Monday
Wednesday
Asynchronous online
First Year - Fall
Torts
Civil Procedure
Torts
Civil Procedure
Legal Analysis, Writing & Research I
First Year – Spring
Contracts
Civil Procedure
Contracts
Civil Procedure
Legal Analysis, Writing & Research II
Optional Summer
Advanced Legal Research
Second Year - Fall
Property
Evidence
Property
Evidence
Constitutional Law I
Second Year - Spring
Legislation & Regulation
Criminal Law
Constitutional Law II
Legal Drafting
During the final one-and-a-half or two years of your J.D. studies, depending on your area of concentration and the electives you choose, you may not always be able to limit your on-campus courses to two nights per week. However, scheduling weekend, summer and intersession classes can provide additional flexibility.
The asynchronous courses in the Blended Online program are designed in weekly modules that consist of recorded interactive lectures, multiple assessments, discussion boards, and course readings. Our faculty members work with a dedicated e-learning instructional designer to create their online courses. They are required to comply with key standards for online education such as Quality Matters and the ABA's credit hour and assessment rules.
Courses currently offered at Akron Law in the Blended Online J.D. Program are
Legal Analysis,
Research and Writing I and II;
Constitutional Law I and II;
Legal Drafting;
UCC Secured Transactions;
Family Law;
Remedies;
UCC Sales; and
Technology in Law.
Specialized studies
Business,
Criminal,
Health,
Intellectual Property & Technology,
International,
Litigation,
Public Interest, and
Taxation
Questions?
Please contact our Admissions Team, at lawadmissions@uakron.edu or 800-425-7668, if you have questions.
---